Uhuru and Raila drum up support for BBI bill in Coast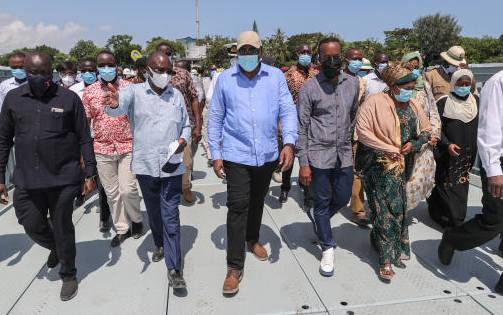 President Uhuru Kenyatta and ODM leader Raila Odinga yesterday took their campaigns for the Building Bridges Initiative (BBI) to the Coast.
In Mombasa, Uhuru asked Kenyans to reject "hypocrites out to lie for their political expediency" and support the BBI, which, he said, will bring a long-lasting solution to politically instigated tribal clashes.
In Kwale, Raila described the Msambweni by-election slated for Tuesday next week as a litmus test on the popularity of the Bill to amend the Constitution.
"If we fail here as ODM, it means BBI will have a problem," Raila said.
Uhuru said the proposed constitutional and policy changes under the BBI aimed at doubling the funds disbursed to constituencies and counties.
"Let's not incite Kenyans and spread propaganda because you want them to clap for you. People should stop spreading propaganda and empty rhetoric," the President said.
He added that the creation of more constituencies would lead to an increase in the National Government Constituency Development Funds disbursed to different parts of the country.
On the proposal to increase the shareable revenue to the counties by 20 per cent, the president said this will accelerate development in far-flung areas of the nation.
"If you are from Msambweni and we add another constituency, that will lead to an increase in CDF from Sh100 million to Sh200 million. Why should you oppose that?" wondered the president.
Raila, who for the first time campaigned for Omar Boga, the ODM candidate, said a win would mean BBI is a popular initiative that would sail through. He painted Mr Boga as a BBI candidate.
Earlier, Raila addressed the ODM secretariat and ODM officials at Ukunda. This time, Boga was meeting with President Kenyatta at Liwatoni floating bridge. Boga, who was accompanied by Mombasa Governor Ali Hassan Joho and Likoni MP Mishi Mboko, held a meeting with Uhuru in a tent at Liwatoni Bridge.
The President said his administration had not forgotten about the squatter issue and other perennial land issues in the region.
He rallied the Coast residents to back the BBI process and asked them to reject leaders he said were out to use the process to divide the country along ethnic lines.
Uhuru also launched the construction of Sh4.5 billion Makupa Causeway Bridge in Mombasa County.
He also inspected the ongoing construction of the Sh1.9 billion Liwatoni floating bridge.
The Head of State is in his second-day tour of the development projects across the Coast region.
On Wednesday, Uhuru and Ethiopian Prime Minister Abiy Ahmed visited the Lamu port.
Uhuru urged MPs to support the Kazi Mtaani programme to keep youth busy and enable them to earn a living.