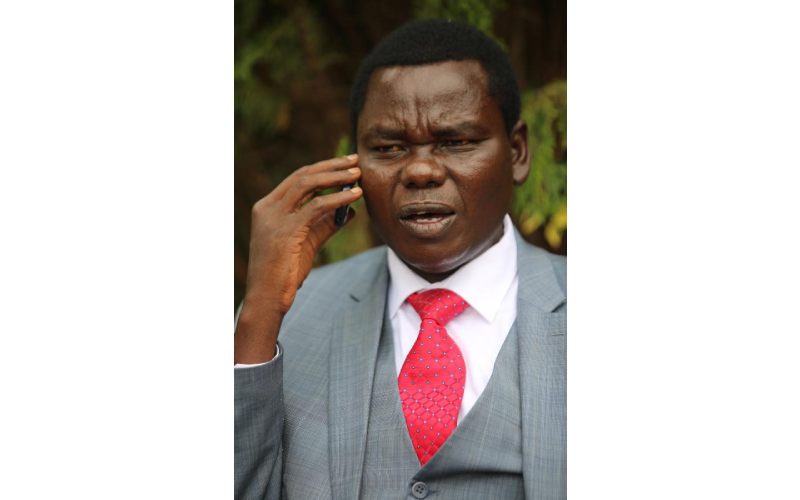 Ainabkoi MP William Chepkut is a man with a funny bone. The long-time personal assistant to once-powerful Kanu-era minister Nicholas Biwott has lately become an internet sensation. His hilarious utterances and risible sense of fashion have provided fodder for comic relief during these trying corona times.
Even in silence, the mere appearance of the MP is enough to generate laughter so much that netizens have baptised him "the only soul alive" owing to his comical antics that readily pull traffic online.
Whether he is on the floor of the National Assembly or attending events in his constituency, Chepkut is always stealing the show with his punchlines.
The MP seems not to care about what people say about him. With a heavy Kalenjin accent, he speaks slowly, letting his words sink in as he studies his listeners.
He knows how to engage his audience by asking rhetorical questions. Sometimes he struggles to make his point, but despite laughter from his listeners, he stands his ground and delivers his message. He wears a serious face, rarely smiling even when everyone else is in stitches.
Chepkut challenge
Recently, the MP lit up social media when he turned up for an event in his constituency adorning what looked like a woman's T-shirt. He quickly became a sensation when a photo of a woman in a similar round-neck shirt was shared and juxtaposed with his in the now-famous "Chepkut challenge."
Tongues began wagging in public, irking the MP who was quick to respond to his critics asking them to mind their own business. It was a rare choice of dress code for an MP often in three-piece suit and a tie.
"I wore a T-shirt and some people were not pleased. Whose toes did I step on? The shirt is unisex, worn by both men and women. I will buy for those who need such," he said.
Previously, he trended on social media for being dramatic during prayer sessions. Several photos of the conspicuous MP in different occasions, kneeling and stretching his hands up as other people around him merely stood, went viral. Chepkut was quick to lash out at his critics, saying they were paying too much attention to his harmless moves.
In weddings, Chepkut steals the show, thanks to his carefree dances. He recently led a Jerusalema dance challenge at a wedding in his constituency that has since gone viral. His moves became more and more vigorous with every tinge of praise from the MC.
Then there is a photo of the MP, a shoe off, attentively scratching his feet in public. Other trending photos include one in which he is sitting on grass with some locals, freely interacting.
Chepkut became a public figure when he waded into politics where he challenged then Ainabkoi MP Samuel Chepkonga in 2017. It was a fierce contest that started during the nominations when Chepkut sought Jubilee Party ticket. Nominations were done twice. In the first one, Chepkut took a lead but the results were disputed leading to another round. In the second round, Chepkut was trounced by just 90 votes. He contested as an independent candidate and won.
Besides his comic moments, Chepkut does not mince words on topical issues.
"DP William Ruto is the principal assistant of President Uhuru Kenyatta. I have said time and again that they are like conjoined twins. Uhuru should be respected and left to run government until 2022. There is time for everything," he once told colleagues campaigning for Ruto.
On his character, Chepkut said he wanted to demystify the belief that when one has been elected to a public office, they should cut social links with locals. Whether you consider Chepkut as a leader acting clown to attract attention or a victim of circumstances, one thing is clear: he is an undisputed dispenser of laughter.