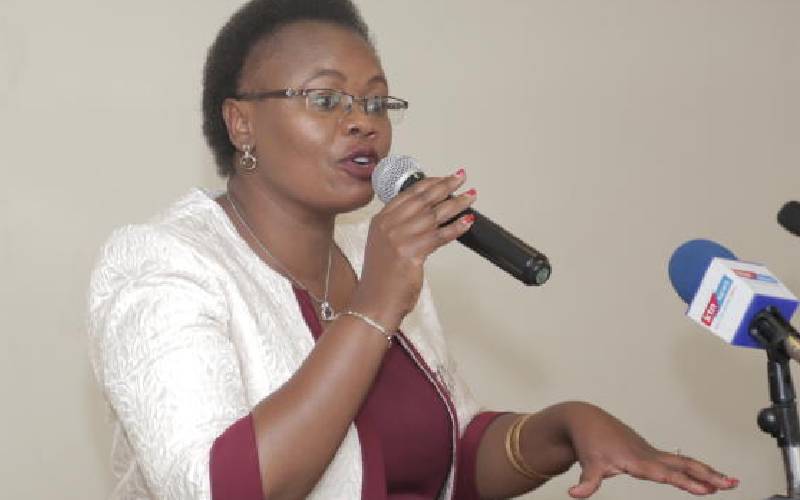 Kiambu Woman Rep Gathoni Wamuchomba (pictured) has said her life is in danger following death threats over her support for the Building Bridges Initiative.
This is as a result of threats she has been receiving on Facebook. She says there is a "well-choreographed plan" to intimidate her into submitting into the demands of the BBI opponents.
The Kiambu Woman Rep said she has recorded a statement with the DCI following what she claims are persistent threats to her life but what she said is a calculated move to silence her and other women leaders.
"There are people sending threats to my life on Facebook. They have openly threatened my life on my Facebook page as per below posts. I request for protection. If anything happened to me as I sell BBI they are squarely to blame, Pray for me." the MP stated in one of her posts.
Wamuchomba told The Standard she has been receiving malicious posts on her Facebook page with an intention of tarnishing her image. According to the MP, some of the threats have been circulated on various social media platforms which she said further put her life at risk.
"Those responsible for the threatening posts should tell Kenyans what the coded language they are using means. That is why I am not taking the threats lightly because my life is in danger," she said.
The distraught MP claimed one of the suspects is already in custody after he was charged in a Gatundu court.
Wamuchomba asked Inspector General of Police Hillary Mutyambai to provide enough security.
"It makes you wonder whether you've put your life inadvertently at risk as a result of your choices on the BBI," she said.
The brief response post on her Facebook page called on Kenyans to support her "while she is still alive".
She called on the government not to take the threats on her Facebook page lightly since the threatening comments seem to be intensifying.
The MP attributed the threats to a November 5 incident where she was heckled as she sought to address Githunguri residents during an official event attended by Interior PS Karanja Kibicho.
She urged the youth not to allow politicians to use them at their expense.
In the Githunguri incident the lawmaker was booed and heckled when she mentioned BBI.
"You do not want to support the document but you want money. How then will you get the money?" Wa Muchomba posed as the crowd shouted her down.
The residents agreed with the first-term woman Rep that they needed more funds to be allocated to the grassroots through devolution but noted there could be alternative ways of doing it other than amending the 2010 Constitution.
Download the BBI Judgement by all seven Judges - Civil Appeal No. E291 of 2021