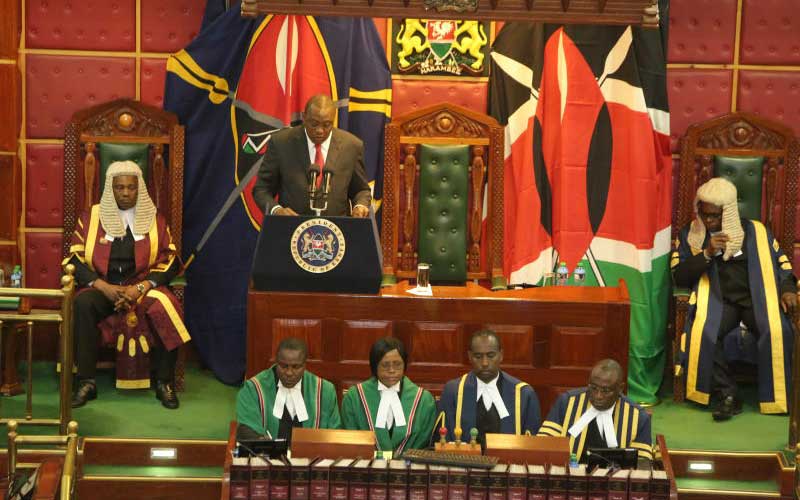 President Uhuru Kenyatta has made his second-last State of the Nation address before a joint sitting of the National Assembly and Senate against a background of gripping national challenges that have recast his priorities.
The address – an annual constitutional requirement – was initially meant for the first quarter of the year but was put off by the coronavirus pandemic. Uhuru's last address was on April 4, 2019.
Only 114 from the 416 MPs followed the address from Parliament chambers as social distancing guidelines, placed to curb the virus spread, are adhered to.
The other legislators, much more like most Kenyans, will watch a televised speech as the president gives his scorecard and chart the way forward for the country.
This is what the president said:
President Uhuru started his address by acknowledging that it had come at a time of " extraordinary global economic, social, and health disruptions" that has not spared Kenya.
"Those disruptions necessitated the rescheduling of this Address for about Six Months, " he tells Parliament.
On legislation: Mr Kenyatta said he noted "with satisfaction" the critical role the House plays in facilitating and driving the realisation of the national vision by "appropriating resources; and by overseeing the Executive, the Judiciary and the County Governments." The president commended Parliament for supporting measures initiated by the National Emergency Response to the Coronavirus Pandemic.
"I also convey my gratitude to the National Assembly for the expeditious consideration of my nominees to various state offices including Ambassadors, High Commissioners and Permanent Representatives to Kenya's mission abroad."
President Uhuru Kenyatta said the roll-out of unique personal identification number, popularly known as Huduma Number was on course.
President Uhuru Kenyatta speaks on Huduma Namba and nationalisation of the Kenya Airways.#StateOfTheNation #SOTNKe2020 pic.twitter.com/dBMhzrV7Jv — KTN News (@KTNNewsKE) November 12, 2020
On Pending Bills he called upon Parliament to consider pending Bills such as the National Aviation Management Bill which he said once enacted, would turn around the fortunes of troubled national carrier Kenya Airways. He also took note of the Statute Law Miscellaneous (Amendments) Bill, Business (Amendment) Bill No. 2 of 2020 and proposed legislation on the administration of referenda and on enhancing governance and on deepening anti-corruption efforts.
Covid:19 cases: While recognising that the pandemic had disrupted lives, President Uhuru Kenyatta said Kenya had reported a total of 66,723 confirmed cases of the Covid-19 while some 1,203 patients dying. Some twenty-three patients have died in the past 24 hours, he added.
On the pandemic effect on the development agenda he said his administration's focus was on implementing the Kenya Vision 2030 and its medium-term plan dubbed the Big Four Agenda, noting that "most of the major economic sectors evidenced impressive growth last year; including manufacturing, agriculture, tourism, and financial services." Mr Kenyatta added that the pandemic has underscored the need to upscale the implementation of the Universal Health Coverage pillar of the Big Four Agenda.
"I am pleased to report to you that the pilot programme for Universal Health Care was successfully implemented, and out of it we have isolated critical learning points that have informed enhancements to my Administration's health policy priorities, going forward," he said.
On Education he noted that Kenya successfully started the roll-out of the Competency-Based Curriculum in January 2019, explaining that it had been embraced by all stakeholders as refinements are being made to the programme.
Mr Kenyatta instructed the Ministry of Education to announce the 2021 academic calendar within 14 days, announcing that all classes that were still at home due to the pandemic were expected to resume learning in January 2021.
He said that for the second-year running, his administration had achieved a transition rate of 100 per cent from primary to secondary school.
For the infrastructure needed during the resumption of school, he said the Ministry of Education and the Ministry Transport, Infrastructure, Housing and Urban Development would by December 1 issue a new set of building guidelines for school infrastructure.
Nairobi Metropolitan Service: He said it was achieving its mandate in ensuring city dwellers did not live in a 'dignity poor' environment has been the case for nearly sixty years since independence.
Title deeds: Mr Kenyatta said he had issued 4.5 million titles since 2013 when he first won the presidency.
The plight of the youth: Noted that his administration had been endearing to shift young people from being 'earners of wages' to 'owners of capital'.
"If the youth are given a sense of national importance, they will own the country and guard it jealously as active shareholders," he tells Parliament.
Ease of doing business: The President said the Transit Shed at the Kenya Railways he commissioned earlier in the week is dedicated as the clearing point for cargo imported into the country by small traders and will save them the "agony of delayed clearing of their trade wares" and "considerable financial cost."
"We have recorded many milestones thus far, such as Kenya's 80-slot improvement since 2014, with our nation currently ranking at 56th globally and ranking third in Sub-Saharan Africa on the Ease of Doing Business Global Ranking Report, from a low of 136th globally in 2014."
Development projects: He said the construction of Nairobi Expressway Project is on course and the deal for Nairobi-Mau-Summit Express Way already signed. For ports and bridges, he said the Lamu Port Berth-One is complete and that his administration was in the final stages of installing the Likoni Floating Bridge. Added that the Kisumu Port Rehabilitation works were complete and that the new port was already processing fuel products to Uganda.
On Security: Mr Kenyatta said the state of security is 'Strong'. Our homeland is secure from the varied threats against it, he tells Parliament.
Building Bridges: The President made a case for inclusive politics, saying that elections alone cannot bring peace and unity to a divided people. He implored leaders to "reach out to each other and build bridges over turbulent waters to allow the people to cross into safety and prosperity."
He asked Kenyans to engage in a positive discourse on the BBI report with a view to "effecting far-reaching changes to that will address the perennial challenges" Kenyans face adding that he held that major changes were needed to the Constitution and other laws "so as to lay the foundation for the prosperous future that we seek."
"As a people, we must seize this constitutional moment to ensure that we deliver to future generations of Kenyans the country that they deserve."
"This moment in time is our meeting with destiny. When generations come long after we are gone, let them say that we made the right decision at this moment; that we chose unity over division; that we dreamt of and birthed a happier, more harmonious and more prosperous nation."
To cap his argument, the President said:
"Kenya is greater than any individual. Indeed, Kenya is greater than the sum of its citizens. We are a beacon of hope, an icon of peace and stability in a volatile region, and a role model for progressive African Social Democracy."
"These qualities are not inherent, and we must continuously water them from the well of our national commitment to a better, brighter, and more inclusive Kenya for all."
"Finally, as we seek to grow our democracy and deepen institutional synergy within Government, I challenge the leadership of our two Houses of Parliament to strive, as much as possible, to resolve issues of concern by consensus building."
"As worldwide experience shows, there is always some level of jostling to be expected between the two chambers of a national legislature, as they each seek to better exercise their institutional mandates. Those issues should only escalate to external dispute resolution processes as a last resort, doing otherwise, hurriedly compromises the legislative authority of the House. On our part, the Executive will always be at hand to aid in that consensus building and to foster internally mediated outcomes within Parliament."