Murathe: DP Ruto is radicalising Mt Kenya youth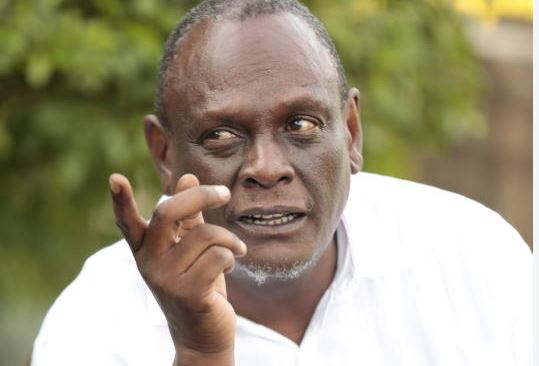 Jubilee Vice-chairperson David Murathe (pictured) has accused the Tanga Tanga's agenda wing of the party of radicalising youth from the Mt Kenya region in the name of empowering them.
Speaking exclusively to KTN News on Thursday, Murathe questioned a narrative by Deputy President William Ruto that he was empowering youth and women as he crisscrossed Mt Kenya region.
"The only question people are raising is, is it only Mt Kenya that needs harambees? Are Mt Kenya youth the only ones that need empowerment?" he posed.
Murathe maintained that the DP had camped in the region and not bothered to empower youth in his own backyard.
"When did you last hear the Deputy President going to Eldoret or to Nandi or the larger Rift valley to empower women or deal with boda boda riders from his backyard?" Murathe wondered.
He accused the DP of juxtaposing the rich and the poor, hustlers versus dynasties saying this was a remedy for chaos and the re-invention of the outlawed Mungiki outfit.
Recently, Ruto has come under fire for donating wheelbarrows to the youth explaining the act as one of economic empowerment.
ODM Leader Raila Odinga has criticised the DP's style of campaigning as Ruto maintains a section of Kenyans had been left out in the development journey.
"You give out wheelbarrows to the youth yet you have not shown them where to go and build… What will he do with the wheelbarrows?" he questioned.
Even with the critics trying to slow him down, the DP has not backed down and continues to tour the region that is largely considered President Uhuru Kenyatta's stronghold. Thge DP's last tour of Murang'a was marred with violence that led to the death of two people.
This weekend he is expected to tour the region where he will hold meetings in Murang'a, Kirinyaga, Nyeri and Tharaka Nithi counties from Friday to Sunday.
Murathe, who has drummed up support for ODM' Raila Odinga, told KTN News that the DP was very selective in his tours and they were raising concerns because something was not adding up; "Whatever he is doing in Mt Kenya, he should be doing it in the Rift Valley."
"He is going back to Tharaka Nithi, he was there last weekend, he is going back to Kirinyaga, he was there a week ago, he is going back to Murang'a after people died in Kenol," he said.
Murathe warned the DP that they were watching him as he dishes out handouts to the youth who need meaningful economic empowerment as factored in the Building Bridges Initiative (BBI) report.