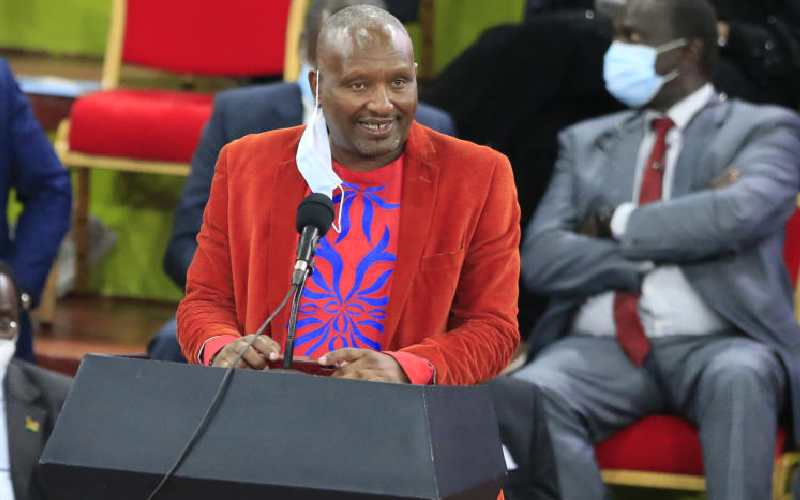 Kanu chairman Gideon Moi yesterday backed the Building Bridges Initiative (BBI) document, saying it promises Kenyans a prosperous future.
In a speech read by party Secretary General Nick Salat during the launch of the BBI report at Bomas of Kenya, Gideon urged Kenyans not to fall into the trap of those misleading them on the contents of the report.
He said Kanu would be at the forefront of propagating the good in the report.
He added that the BBI process provided an opportunity for all Kenyans of goodwill to be on the right side of history — by supporting the document.
Read More
"Kanu has no doubt that that BBI guarantees a peaceful, equitable and prosperous country. This is the moment. Let us seize the moment. Let us be on the right side of history. Let us be ambassadors of the truth by telling Kenyans the truth about this document," said Gideon.
The Baringo senator also took the country down memory lane, recalling that the founding fathers wanted a country at peace with itself.
He cited former President Daniel arap Moi's philosophy of peace, love and unity as one of the guiding principles in the country's progress, and urged that it becomes part of the country's laws.
"Former President Daniel arap Moi coined the Nyayo philosophy of peace, love and unity. We are proud of what has been achieved towards that direction over the years. It is out of conviction that this philosophy needs to be entrenched in law...this is a package that should be anchored in the supreme law of the land," said the Kanu chairman.
The BBI document has been touted as the panacea to some of the country's most pressing problems such as tribalism's, political exclusion, corruption and poverty.