Mashujaa Day: Raila presses reggae button as Ruto calls for dialogue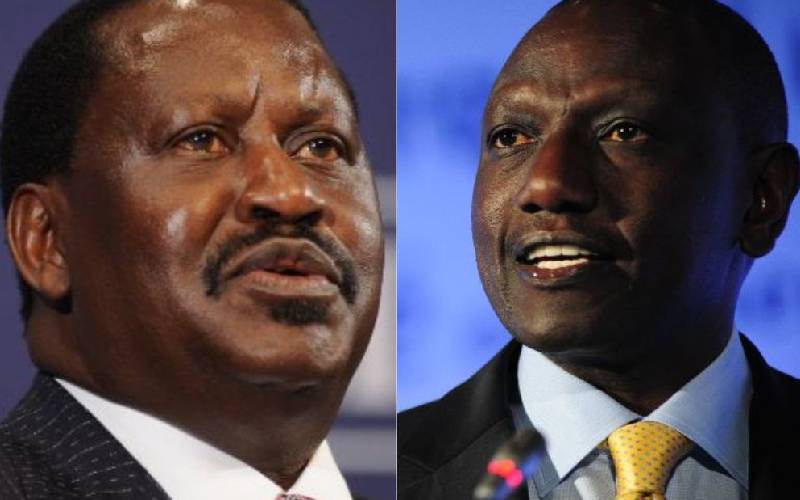 ODM leader Raila Odinga continued preaching the gospel of popularising the Building Bridges Initiative (BBI) today during Mashujaa Day in Kisii County.

Speaking during the event, which was held in Gusii Stadium; Odinga said the country needs a new political system that will redirect it to the path which was envisioned by the founding fathers.

"We must change direction. For 56 years we have followed one direction but without any results. We need to look at what else is out there that is missing so that project Kenya can move forward," said Raila.

Raila credited Kisii County as the spring that gave rise to the BBI when leaders from all communities in Nyanza convened to discuss issues that agonised them.

The ODM leader said that it now time to commence the BBI campaign which was halted due to the coronavirus pandemic. He used the football analogy saying the half-time period had elapsed, and time was ripe for the second half of play.

"Halftime is over and the players have been beaten and have gotten their lessons and massaging. Now they are going back to the field. You (President Uhuru Kenyatta) will tell us the path you want us to follow because nobody can stop reggae," said Raila.

Odinga's sentiments attracted a reaction from his political rival, Deputy President William Ruto, who called for a national dialogue to iron out the thorny issues plaguing the country.

Ruto cautioned against using the BBI to satisfy the interests of the political class, adding the gains should be all-inclusive.

"My friend, the former Prime Minister, has told us about the reggae, which is fine, but I guess we will have a robust national conversation that will bring everybody on board," said Ruto.

And when President Uhuru Kenyatta climbed up the podium for the final speech, he did not drop the ball on the matter.

Uhuru emphasised the need to revise the constitution to solve the problems arising from General elections, which subsequently fan violence. He argued against the winner-takes-all principle which he said was a major trigger for electoral violence in the country.

"How do we expect as a people to resolve this problem using election instead of constitutional change. It would indeed, fellow Kenyans be a tragedy if come subsequent elections, we have not resolved this dilemma," he posed.

The president challenged Kenyans to 'ponder upon a constitutional consensus that would deal with political inclusion, equity in the distribution of opportunities and resources and violence in every election cycle.'
"Can we adopt a constitutional arrangement that can take care of our diversity as a people?" asked the head of state.

The President warned that his statement should not be viewed as a move aimed at giving positions to individuals but one that would accommodate all communities in an election.

He concurred with his deputy that Kenyans must have an honest conversation and not shy aware from taking bold decisions.

BBI back

The Mashujaa Day event comes at a time that the country expects the release of the final BBI report any time soon. Over the weekend, former premier Raila Odinga said at a burial in Siaya County that the team of experts compiling the report would soon present it.

The team of experts had their terms extended after which they retreated into the final lap to produce the report. They have a deadline of November 23, 2020, to present to Uhuru and Raila.
Download the BBI Judgement by all seven Judges - Civil Appeal No. E291 of 2021