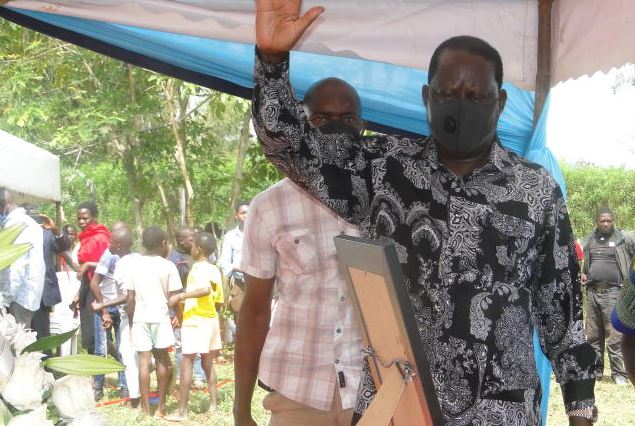 ODM leader Raila Odinga has told Kenyans to brace themselves for a return of an intense mobilisation to change the Constitution through the Building Bridges Initiative (BBI).
"Our people should prepare. We are preparing for the future and we will blow the whistle very soon. It is only a few days before we bring reggae back," said Raila (pictured).
The ODM leader laughed off those opposing the BBI report that they are yet to see, saying they should prepare for a rude shock.
He said the initiative he started with President Uhuru Kenyatta, will be instrumental in addressing most of the problems the country has faced since independence.
"More than 50 years since we gained independence, we have been unable to reduce some of the problems our people have faced and that is why we have decided to change this narrative," said Raila.
Ethnicity and inequality
Among the issues the former prime minister said they are focused on addressing are unemployment, ethnicity and inequality.
"We brought a new constitution. We have devolution but it is not working well and that is why we are pushing for reforms," he said.
Raila spoke yesterday at a funeral in Usenge, Siaya County, where he also took a swipe at Deputy President William Ruto and critics of BBI for attempting to mislead Kenyans with the 'hustler' narrative.
He lashed out at Ruto for presenting himself as a poor man while he owns vast investments and flies around the country when not cruising in expensive cars.
"How do you refer to someone who has amassed huge wealth, flies in several choppers, has kept money abroad, has built several homes and hotels as a hustler?" posed Raila.
He said the 'hustler' narrative is an insult to Kenyans struggling to make ends meet.
Raila said the problems facing Kenyans are beyond handouts given by Ruto.
The DP has been traversing the country and making donations to various groups and churches and has been relying on the hustler narrative to whip emotions and lure people to back his 2022 presidential bid.
Lasting solution
Raila however said handouts cannot provide a lasting solution to the problems the country has struggled to shake off for several years.
"Someone has already amassed huge amounts of wealth and when youths come to him, he gives them wheelbarrows. That is absurd," he said.
Intense lobbying for implementation of the BBI report has already started at both the Senate and National Assembly where President Kenyatta and Raila's troops are hoping to set the stage for a seamless process.
Yesterday, the ODM chief said the process is back on track, adding that they had only taken a break to "re-energise".
Using football analogy, Raila likened the Covid-19 break to half-time and said the political players in the BBI field took the break to regroup and re-strategise.
He explained he is fit as a fiddle and fully prepared to push for the constitutional reforms on issues the country has failed to address with the 2010 Constitution as well as with creation of devolution.
"We only had a half-time break for reggae. We are coming back in full swing," he said.
The former prime minister also urged Kenyans not to lower their guard in the fight against Covid-19 and warned of a second wave if people become reckless.
Huge threat
He said the pandemic still poses a huge threat to the country and that a quick return to normalcy would be catastrophic.
"We must remain vigilant until a vaccine is found. The disease has killed many people and continues to affect several others and as a country we should not have laxity," said Raila. This week, Uhuru, Raila and Ruto will be expected in Kisii where they will attend this year's Mashujaa Day celebrations.
Download the BBI Judgement by all seven Judges - Civil Appeal No. E291 of 2021