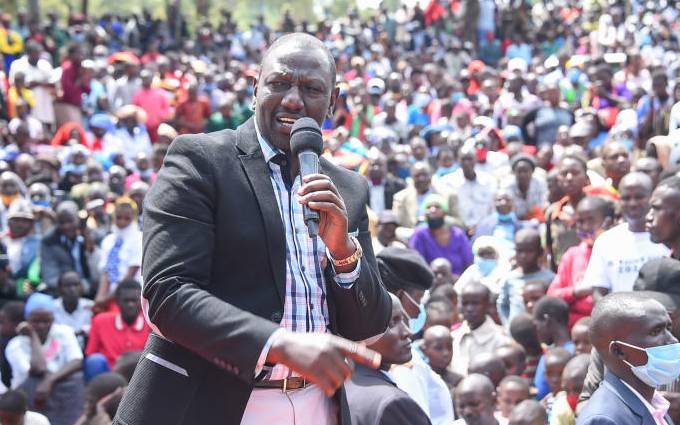 Angry, resigned and carefree; that was Deputy President William Ruto in Nyamira County yesterday.
In speech and actions, Ruto has made it a routine to thumb his nose at his own government and yesterday was no different.
One day before a crucial Cabinet meeting, the deputy president lashed out against what he termed broken promises, stalled projects and unfulfilled ambitions.
Read More
For the umpteenth time, he tore into President Uhuru Kenyatta and ODM leader Raila Odinga's Building Bridges Initiative (BBI), saying it had hampered key projects they had intended to implement.
"We (Ruto and Uhuru) had the national housing programme as one of the Big Four agenda that was aimed at building 500,000 houses every year across the country. The programme was to create jobs for plumbers, carpenters, masons, electricians and engineers.
"But the jobs have stalled because we have been told there is a very important project ... the project of BBI, which is geared on creating three or four jobs for some few people," the DP told a crowd in Kitutu Masaba Constituency.
Ruto said he and Uhuru had started out well by implementing a number of programmes to change the lives of vulnerable Kenyans, but midway through the project, the President diverted the agenda and instead started engaging in BBI politics.
The DP said he would oppose every attempt to create jobs for a few individuals through the BBI process.
"We always talk about changing the Constitution but this time round we are going to engage in talking about changing lives of the poor and lowly in the country," Ruto said.
He continued: "The time for changing the conversation has come. We will talk no more of leadership and positions for a few big people seeking national leadership, but politics of the small people. When shall we talk about boda boda riders and the country's small and medium enterprises?"
Ruto claimed those crusading for the BBI wanted a top-down debate while his team had chosen the bottom-up approach.
Empower people
"We empower the lowly people first and move upwards to provide for top leadership positions. We will go contrary to anything they are doing. I am not mad. I am not drunk and I know what I am saying. From down-up it's possible, but not up-down," he said.
He urged residents to reject those leaders whom he said were out to incite them against others on the basis of political affiliation.
The DP expressed his frustration at the Government's decision to crack down on his church activities, which has seen worshippers caught in the crossfire.
He cited the 2012 case against him, Uhuru and four others when they were hauled before the International Criminal Court on charges of crimes against humanity.
"If it were not for prayers which delivered us from the shackles of The Hague ... and God gave us the leadership because our Christians slept in churches and prayed for us until it was over. Our Government cannot be the same one that beats Christians in church. That is very bad and I pray that those we have given jobs to respect churches and God and stop enforcing the law in houses of worship," he said.
He also hit out at individuals he referred to as 'those above' whom he said were hell-bent on enforcing the recently announced National Security Advisory Committee's measures on public gatherings.
"I want to tell our friends wherever they are, if you have no respect for William Ruto, please have some respect for the Almighty God. Don't teargas churches," he said in reference to the recent violence at a church in Kenol, Murang's County where two people were killed after a fight broke out between groups of rival supporters.
Ruto was accompanied by Kisii Deputy Governor Joash Maangi, MPs Shadrack Mose(Kitutu Masaba), Joash Nyamoko (North Mugirango), Vincent Kemosi (West Mugirango), Ndindi Nyoro (Kiharu), Rigati Gachagua (Mathira), Sylvanus Osoro (South Mugirango) and Nominated Senator Millicent Omanga.
The legislators asked Kenyans to embrace the deputy president's initiatives even as they pledged to play their part in changing the lives of the poor.