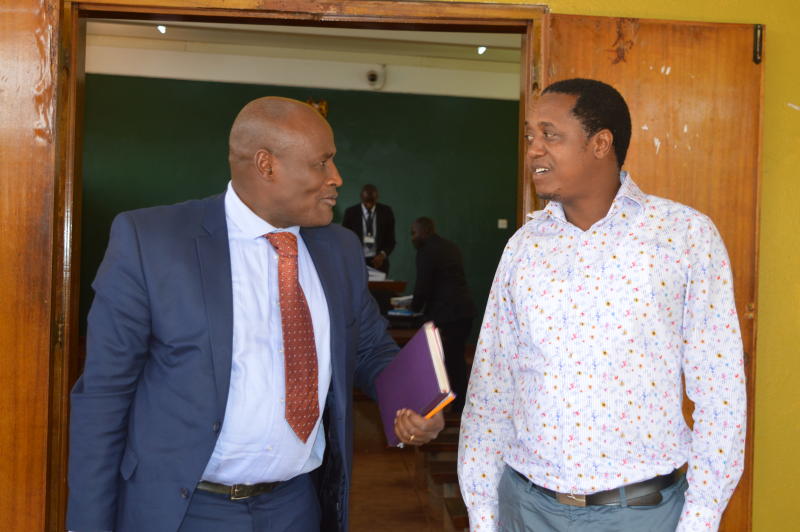 High Court judge Weldon Korir's verdict that saw Gatundu North MP Wanjiku Kibe lose her seat capped a three-year legal onslaught by former lawmaker Clement Kung'u Waibara to dislodge Kiambu County's only woman legislator.
By this, Waibara did what his predecessor Patrick Muiruri failed. Mr Muiruri, who was also an assistant minister, launched an unsuccessful petition to have Waibara's victory following his election in 2013, nullified.
Waibara first tried to end Kibe's career through an election petition that failed at the High Court, succeeded at the Court of Appeal and again flopped at the Supreme Court.
Later, Waibara who had garnered 9,390 votes against Kibe's 39,447, filed a fresh case at the High Court, this time, arguing she had not vacated her seat as a nominated MCA in Kiambu county assembly by the time she won the Jubilee Party nomination in 2017.
Read More
Justice Korir was in agreement with Mr Waibara saying he was convinced that an MCA, as State officer, should resign before being nominated for a parliamentary or presidential seat.
While issuing his ruling, Justice Korir said the Independent Electoral and Boundaries Commission should consequently organise a by-election in the constituency within 90 days, giving Waibara another chance to go for the seat.
When Waibara won the seat in the 2007 elections, residents said he presented the face of change. He was 36 and Muiruri was in his 60s.
During his campaigns, Waibara's symbol was a toddler in a mother's arms. He promised to be as transparent as possible with residents able to monitor his every move.
However, he had hardly settled in office when he started battling a petition lodged by Muiruri, who succeeded at the High Court but lost at the Court of Appeal.
High Court judge Fred Ochieng ruled in Muiruri's favour and declared the seat vacant before the Court of Appeal reinstated Waibara.
The Court of Appeal reversed the decision of the High Court saying the judge failed to consider the nature of the evidence presented before court while nullifying Waibara's election.
In one of the grounds upon which Muiruri had sought to have Waibara removed, was that he was not sufficiently proficient in national languages to enable him take part in parliamentary proceedings.
One Martin Ndung'u claimed, on oath, that he had taken proficiency exams on behalf of Waibara.
At some point, Muiruri's lawyer gave the youthful MP a newspaper cutting to read out in court. Waibara's fumbling prompted the judge to quip; "the point had been made."
In 2011, Waibara would start battling another case in court over allegations of conspiracy to kill businessman Bernard Chege Mburu between April 1, 2010 and March 31, 2011 in Thika Town.
Court papers alleged that Waibara jointly, with others not before court, conspired to kill Mburu, who sold car tyres after he allegedly reneged on a promise to withdraw an election petition against him.
It was not until October 2014 that the former MP was acquitted of the charges.
Waibara lost during the 2013 elections to Kigo Njenga, who would serve for one term.
"The case was a major determinant of my performance. I had to drive to Nyeri every two weeks and retain a lawyer throughout my parliamentary tenure," Waibara said after he was acquitted by Nyeri Senior Resident Magistrate Joan Wambilianga.
The magistrate said the evidence by seven prosecution witnesses was not enough to secure a conviction.
"What comes out is that there was a grudge between the accused and the complainant borne out of the 2007 elections which lead to a petition," said the magistrate.
Ms Wambilianga also took a swipe at the prosecution for failing to prove there was conspiracy to kill. The magistrate observed that the prosecution abandoned all evidence that could have assisted the court.
"The prosecution case was weak, had gaps and the benefit of doubt is given to the accused," said the magistrate.
Generally known
Gatundu North is generally known as Mang'u but has failed get away from the larger Gatundu area associated with the first president Jomo Kenyatta and his son President Uhuru Kenyatta.
"The main problem with Gatundu North is that it has failed to wean itself off the Gatundu tag and its politics is many a times influenced from Thika and Gatundu South," said ODM Kiambu secretary Charles Mbugua.
Waibara won in 2007 by employing a campaign strategy which involved distribution of thousands of blankets, mostly to women.
Many residents felt Waibara had the vibrancy needed to revolutionalise the constituency's leadership and the general way of doing things.
Many will be waiting to see if Waibara will beat Ms Kibe in the likely fresh contest.