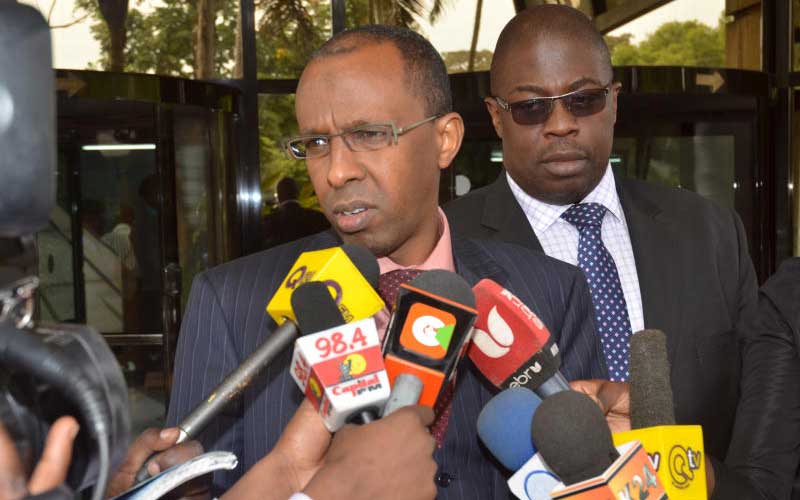 Parliament has accused Chief Justice David Maraga of creating anxiety and confusion by advising President Uhuru Kenyatta to dissolve the House over failure to enact the two-thirds gender rule.
In a petition filed through lawyer Ahmednassir Abdullahi, the Senate and National Assembly argued the CJ went outside his mandate by giving the advice, which if implemented, would lead to total paralysis of operations in national and county governments.
"His advisory to the President was a grave error and misapprehension of the Constitution. The CJ took a mechanical reading of Article 261(7) and failed to internalise the import of his advisory which is illegal and does not have any constitutional backing," said Abdullahi.
Abdullahi argued that should Parliament be dissolved as per Maraga's wish, the state of anarchy that would ensue would be unprecedented since the other arms of government cannot operate without funds approved by the House.
Read More
He submitted that the Executive, Judiciary, county governments and other key State agencies would all be grounded.
According to the senior counsel, it was the 11th Parliament that was ordered by the High Court to enact the law within six months and not the current one.
"We have had prolonged debates on the two-thirds principle that has spun over the last decade with questions on whether its enactment is tenable given the innumerable attempts by Parliament in this regard," he said.
Abdullahi argued that the Constitution gives Parliament a lifespan of five years, which if the advisory is to be implemented, will violate the democratic rights of citizens to choose their representatives for a term of five years.
He submitted that measures to ensure balanced gender representation in Parliament can only be taken in stages as a calculated and harmonised state action.
"It is a process that cannot be dictated by the CJ's advisory since it entails the creation of a legislative road map, proposal drafting, engagement of the citizenry under a public participation scheme, and a debate and voting process that takes place in Parliament," he said.
Abdullahi claimed it was unfair for the CJ to conclude that Parliament had failed in its duties when it had previously attempted to pass the law but did not garner the required numbers.
They want an order stopping the President from acting on the CJ's recommendation and a declaration that the two-thirds gender principle can only be achieved through a constitutional amendment.