Mt Kenya politics: Leaders read mischief in elders' talks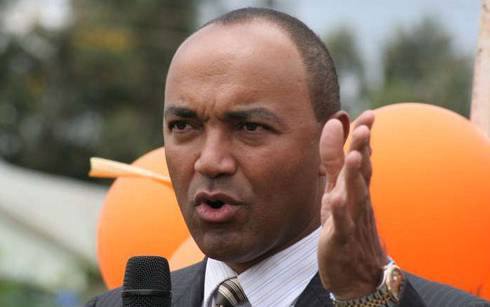 A meeting of Murang'a elite elders' council and area legislators has sparked speculation over political developments in the region. Some leaders believe the Murang'a Council of Eminent Persons meeting was called to endorse the political ambitions of former presidential candidate Peter Kenneth.
MPs who attended the meeting said the initial agenda was to introduce the new crop of council elders to the elected leaders so that they can chart a common vision for the development of the region.
Mathioya MP Peter Kimari revealed that the meeting veered off to politics and there was a unanimous feeling that the leadership needs to speak in one voice to boost their bargaining power in the post Uhuru era. A section of the youth-led by Peter Kiruma supported the council's meeting saying it played part in birthing development projects in the county.
"Murang'a University of Technology is a brainchild of the Council of Eminent Persons who founded it as a technical college before elevation into a university," said Mr Kiruma. Murang'a Woman Representative Sabina Chege said the meeting that was held under the chairmanship of former Permanent Secretary Joe Kibe only deliberated on development matters.
Ms Chege said Kenneth was invited upon his request to be involved in the planning of county development agenda. "I can tell you for sure that nothing related to Kenneth's political ambitions were discussed in that meeting," she said.
Prominent members of the council include former Equity Bank chairman Peter Munga, Royal Media Services (Citizen TV and Radio) owner Samuel Macharia and author Muthoni Likimani. The meeting was held at a resort off Kiambu Road and not the usual hotel along Thika Road following alleged disruption after intrusion by uninvited persons.
"Murang'a leaders have every reason to meet and shape the destiny for the future generation," said Gatanga MP Nduati Ngugi.
"Kenneth was singled out as the best leader to represent the county's aspirations at the national level and going forward he will have a lot of good-will from that endorsement," said Mathioya MP Peter Kimari.
Political strategist Prof Peter Kagwanja presented a paper, titled "The Future of Power in Murang'a County and its Implications by 2063," on how the region could harness its unity to get maximum rewards at the national level.
"It was broadly looking at our county scenario and we asked ourselves whether we wanted to continue to be like Djibouti which helps others and gets back tokens or Somalia which is lawless with an unpredictable future or Mauritius which has an equivalent population as Murang'a but a per capita of US$11,600 (Sh1.25 million) compared to our less than $1,000 (Sh108,000)," said Kagwanja.
Yesterday, Governor Mwangi wa Iria said he was not interested in meetings held outside Murang'a County since they would not benefit mwananchi.
"I would only be interested if 'Wanjiku' meet and not a forum with hidden strategies," said the governor who skipped the meeting. A member of the council said all elected leaders were invited to participate in the forum and those opposed to it had selfish interests.
"This is an open forum where county development and education-related issues are deliberated. It is pathetic that some people have been out to politicise the forum," said a member who sought anonymity.
The meeting was attended by Mr Kenneth, Senate Majority Chief Whip Irungu Kang'ata and MPs Ms Chege (Murang'a) and Ngugi (Gatanga), Kimari (Mathioya) Mary Wamaua (Maragua) and Ruth Mwaniki. Kangema MP Muturi Kigano skipped the meeting as he had other engagements. Those who were absent with apologies are Kandara's Alice Wahome and Ndindi Nyoro (Kiharu).
[Additional Reporting by Wainaina Ndung'u]