'Murkomen needs anger counsellor after losing Senate post'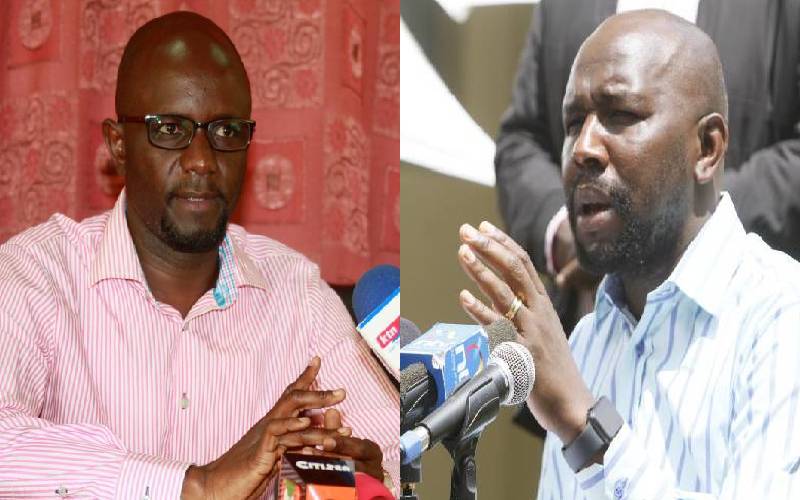 Alego Usonga MP Samuel Atandi has told Elegeyo Marakwet Senator Kipchumba Murkomen to stop his twitter attacks on ODM leader Raila Odinga and instead visit a counsellor to help him deal with his bitterness.
The vocal ODM legislator told Standard Digital on Friday that Murkomen has never accepted that he was ousted as Jubilee Senate Majority Leader and is of late fond of crying even in the Senate during debates.
"He is behaving like a rabid dog of late, even if you listen to him in the Senate, he is ever bitter, complaining or crying," he said.
Atandi said Murkomen should stop blaming Raila for the Senate's failure to adopt the Revenue Allocation formula, claiming Murkomen is among senators who were bribed to defeat the revenue bill.
Bribery claims
The MP told Murkomen to stop playing politics after he and some senators were bribed to defeat the formula.
"You know what Baba is talking about. Don't feign ignorance. Senators from gaining counties wanted an easier exit route without "paying back the bribes."
The MP said there is evidence that senators from the gaining counties opposed to the formula were given humongous bribes to defeat the bill in the House.
"I have evidence where one of the senators is giving the police the direction to his house so that they can go and arrest him," said Atandi.
He defended Raila's claims that some of the senators called the police to arrest them to prove to those who bribed them that they tried to defeat the bill in vain.
While speaking in Taita Taveta on Thursday, the ODM leader claimed the three senators who were arrested during the Senate debate had organised their arrest after being bribed to vote against the revenue formula.
Murkomen, however, hit out at Raila for politicising the harassment of the senators, saying if he was to be elected president, Kenyans will suffer more.
"If Raila was to become President it will be a terrible mistake. Now he is saying 3 senators called police to arrest them, take them from Nairobi to Bomet, Kakamega and Samburu to avoid voting. What kind of justice system is this? Tinga has lost his mind he should sanitize and stay home," Murkomen tweeted on Thursday.
He accused Raila of being so selfish that he cannot believe the 'gaining senators' put the interest of the entire country before their counties'.
"Raila is saying before you support something there must be personal benefit for your county and not the collective good of the country. He is so greedy and corrupt that he can't believe there are leaders who are selfless. He thinks everyone is him," he said.
Twitter feuds
The exchange comes barely a week after Murkomen took on Environment Cabinet Secretary Keriako Tobiko for referring to Deputy President William Ruto as a clerk.
Murkomen, however, went mute after CS Tobiko accused Murkomen of being an illegal encroacher in government forest and asked him to begin packing and leave before he is evicted.
Murkomen and his father have encroached on Embobut Forest, he should start packing and leave," said Tobiko.