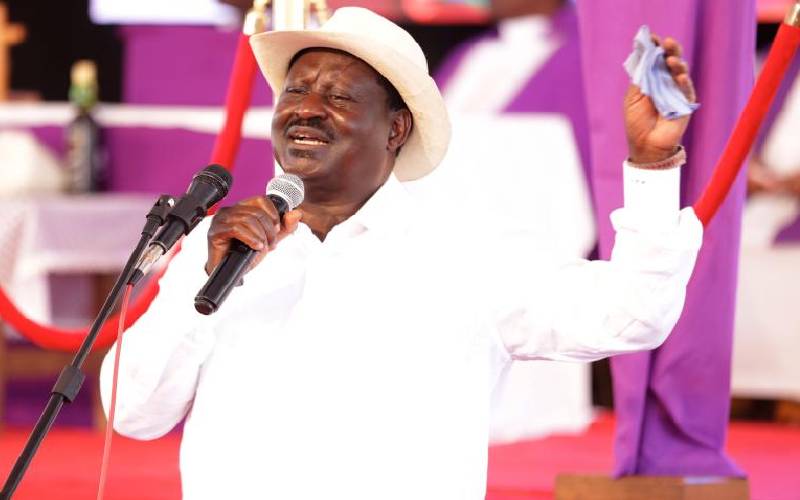 Orange Democratic Movement party leader Raila Odinga has reached out to Senate to adopt the revenue sharing formula fronted by the Commission for Revenue Allocation, to help end the stalemate that has grounded operations in counties.
Hitting out at senators opposed to the formula that calls for 'one shilling-one man-one vote', the ODM leader said every senator should worry about the interest of their respective counties and the people they represent.
Speaking yesterday at the home of Kakamega Governor Wycliffe Oparanya in Butere, in a statement seen to castigate Senator Cleophas Malala over his stand that no county should lose revenue, Raila said money should go where people are.
In the meeting with the county ODM MCAs, where journalists were not allowed in, Raila maintained that the Senate should not undermine the devolution gains made under the 2010 Constitution.
"Every senator should serve the interests of his (or her) county. A senator whose county is receiving more money should not be seen as supporting the interest of other counties at the expense of their own," he said.
ON CHOPPING BOARD
Mr Malala has been on the chopping board for being vocal with his clarion call that no county should lose money despite the fact that his (Kakamega) stands to gain should the formula that calls for the sharing of revenue on the basis of the population size be adopted.
For the first time, the ODM leader seemed to be clear on his preferred formula on revenue allocation. Unlike President Uhuru Kenyatta, who has been clear on the passing of the CRA formula by the Senate, Raila has been calling on the senators to find an agreeable stand.
Giving an analogy of a family set-up with a mother and a few mouths to feed, and the other with many, Raila said the prudent thing for a responsible father to do would be to allocate more resources where there were more children so that no one starves.
"The formula to share revenue was drafted by a commission that has competent people. In a homestead where a man has many wives and one family has five children, another 10 and when food is being served it cannot be served equally," he said.
The stalemate has seen counties go into September without money, with governors threatening to shut county operations on September 17.