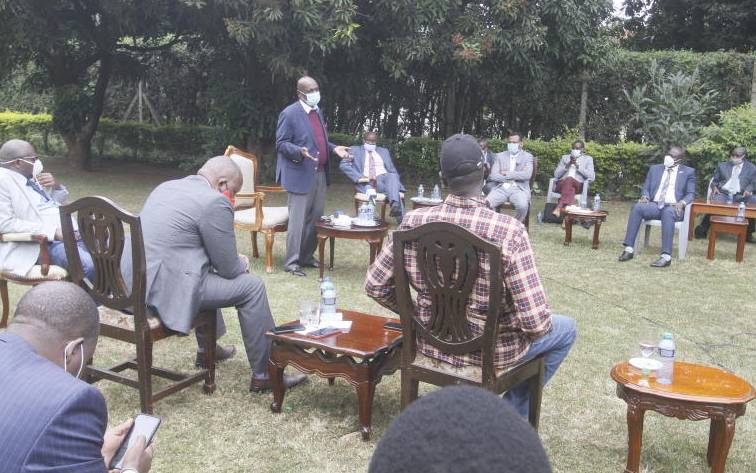 Kanu has entered into a new working arrangement with People Democratic Party ahead of the 2022 General Election.
Kanu chairman Gideon Moi and PDP leader Omingo Magara yesterday held talks in Nairobi, hinting at a possible merger in coming days.
Magara led a delegation of leaders from Kisii and Nyamira counties to a consultative meeting at Kabarnet Gardens in Nairobi. Tiaty MP William Kamket, Fafi MP Abdikarim Osman and Senate Majority Leader Samuel Poghisio attended the meeting.
The two party leaders agreed to work together and bring to life a coalition that will give them an upper hand in the next elections.
Read More
"We have agreed to start the journey together. Our aspirations, our thinking, our ideologies are the same, we both support the same course, we both support the BBI," said Gideon.
The Baringo senator added that the Building Bridges Initiative (BBI) will solve the ongoing revenue sharing row.
"In BBI, 35 per cent of the national government's revenue will go to the counties, so why would we not support it?" he posed.
Gideon said their aim as leaders is to uplift the lives of people, and Kanu is rooting for like-minded individuals to create synergies to push this agenda.
"It is a match made in heaven," he said.
Magara said going into a coalition does not mean a party will be dissolved. He said this will form a base and strategy for engaging to make the merger bigger and better.
He said both parties will form a team and append a document that will address the needs of the cooperation.
"There is a way we can cooperate if our interests are the same, we seek partnerships to move to the next level and win power," Magara said.
He said PDP is still open to talk to others for possible partnerships, as this will only make their merger with Kanu bigger.
"Working as an entity is not bad as long as we use it to synergise and give value to each other. Political parties need to work together," Magara said.
Kanu Secretary General Nick Salat said the party is on a revival path to recapture its past glory.
"We are tired of supporting and endorsing others. This time we have our own, we do not want to remain afloat. We want our presence felt in 2022," Salat said. Buoyed by a deal the ruling Jubilee Party and Kanu signed on May 2, Gideon is regrouping with like-minded politicians as he seeks to succeed President Uhuru Kenyatta.