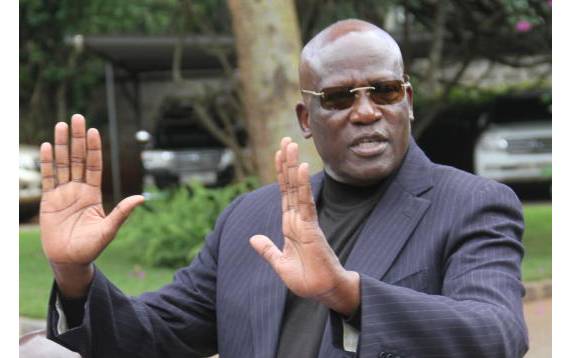 Former Machakos Senator Johnston Muthama (pictured above) has announced his exit from the Wiper Party saying he is considering forming a new party to battle it out with Kalozo Musyoka-led outfit.
In his response to a Show Cause letter from Wiper, the former legislator said that he left the Wiper Party in 2017 due to frustrations he faced from the party leadership.
"…I wish you the best in your endeavour and I look forward to politically engage in 2022 when I shall face Wiper and other political parties with my party, God willing," he noted at the ending of his response.
According to Muthama, his new political outfit will field candidates in all electoral positions, namely; presidential, gubernatorial, senatorial, MP and MCA positions.
Read More
In the response to party's accusations, Muthama listed four responses on issues raised which he argued had driven a wedge between him and party leader Kalonzo Musyoka. He accused the Wiper leader of nepotism, by using his influence to dish out seats to his close family members. Cases in point are where Muthama claims that Mr Musyoka used his influence to nominate his son to EALA and sister-in-law Jane Muasya to Nairobi County Assembly.
According to Muthama, Kalonzo's frustrations brewed after he (Muthama) ditched the party and the situation was aggravated after Wiper failed to get a share of Sh4 billion allocated to NASA Coalition under the Political Parties Finance Act 2011.
"What baffles me is that Kalonzo Musyoka is a co-principal of NASA like Raila Odinga but over the years he has shied away from demanding what is rightful for the Wiper party," he stated.
He further stated that he gave up on the party immediately after he shelved his plan to vie for Machakos Senatorial position and relinquished his position as National Executive Council member. This he attributed to frustrations he met from the party leaders especially when they defied his plea to have party offices located in its earlier place.
On June 23, the party summoned the former MP and accused him of gross insubordination.
"Wiper Democratic Movement-Kenya has initiated disciplinary proceedings against former Machakos Senator Johnstone Muthama over alleged insubordination and defiance to the party's ideologies," a letter from the Wiper partly read.
Amidst political realignments, which has seen Muthama shift to the camp of Deputy President William Ruto; Wiper moved to tame him.
But just hours later, on June 24, Muthama came out pledging allegiance to the DP unapologetically. This he said, was a decision he made in the interest of the Kamba community.
"I am still working to ensure DP William Ruto becomes the 5th president of the Republic of Kenya, "said the former legislator.
The Wiper Party Chairperson Ali Chirau Mwakwere protested Muthama's utterances saying that the former MP was not speaking on the behalf of the party.
"He is off track and is doing things the party cannot stomach. No one has actually given him that role of speaking on behalf of the party," said Mwakwere.