Uhuru stamps authority kicks Duale out as Majority Leader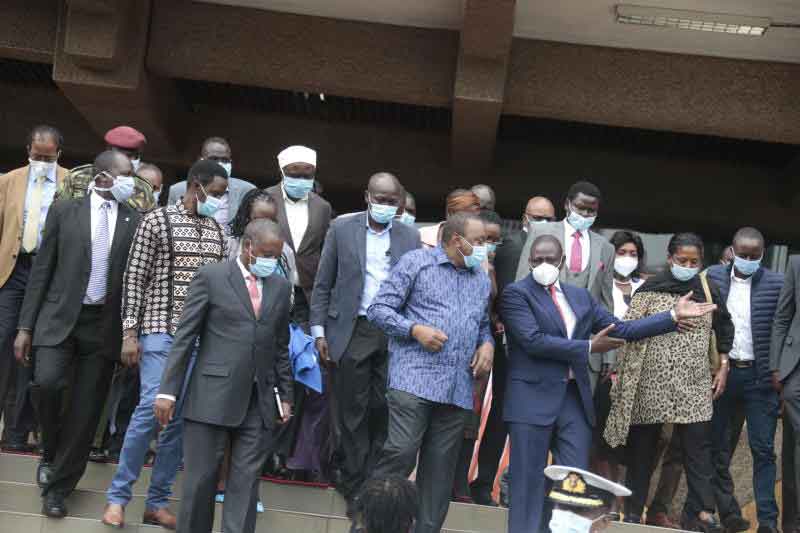 The removal of Aden Duale as the Jubilee Majority Leader in the National Assembly indicates there is no going back in President Uhuru Kenyatta's belated Night of the Long Knives.
Duale is not your ordinary Jubilee MP but a Deputy President William Ruto ally with formidable clout of his own, meaning it can be safely concluded he occupies a special position in Ruto's 2022 game plan.
It is also instructive that the boot was planted on Duale's backside as the Ruto faction of the ruling party was getting gutsy to the extent of opening a parallel office for the splinter now styled as Jubilee-Asili.
Indications that removing Duale was not going to a be a stroll in the park surfaced when North Eastern leaders under the auspices of the Pastoralists Parliamentary Group and led by Garissa Senator Yusuf Haji called a press conference during which they made a strong case for his retention.
Mr Haji packs considerable political muscle. He is the Chairman of the Building Bridges Initiative (BBI) which suggests a closeness of ties with the president and the attendant level of trust given that BBI will, most likely, culminate in a national referendum where support from regional blocs cannot be taken for granted.
Mr Haji is also the father of Director of Public Prosecutions Noordin Haji.
Interestingly, when the purge on Jubilee rebel senators and MPs gathered pace, President Uhuru's Mr Fixer David Murathe indicated that Duale would be spared the guillotine.
But as Murathe sounded Duale-friendly COTU Secretary-General Francis Atwoli, who is playing a crucial role in the Jubilee surgery in spite of being a Kanu member, was making it clear that Duale had to go for the clear-out to be complete.
Now that Duale is gone, observers will be interested in what sort of carrot President Uhuru offers Mr Duale's constituency considering the kind of support the MP delivered to the original Jubilee Party.
Mr Kimunya, an experienced politician and highly knowledgeable in financial matters in his own right will be hard-pressed to match Duale's organizational prowess in driving government agenda in the National Assembly.
Married from an influential Somali family, Duale has been in parliament since 2007 when he was elected on Orange Democratic Movement ticket. He switched parties in 2013 to Ruto's United Republican Party and won. In 2017 he was elected for the third time, this time as a Jubilee Party candidate.