Jubilee Party stands its ground on assembly leadership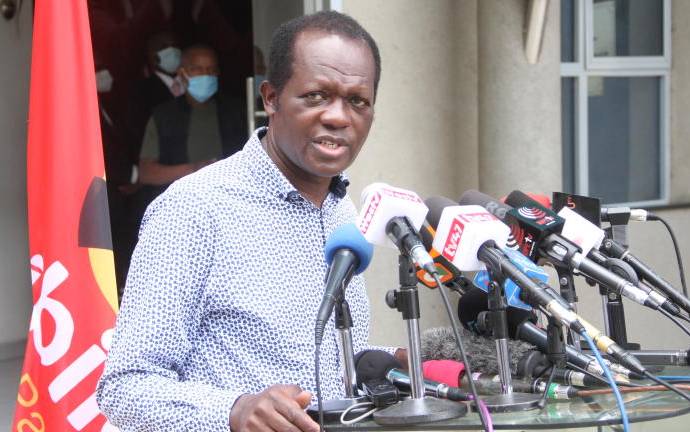 Jubilee Party has stood its ground on recent leadership changes made to its wing of the city assembly that saw the reinstatement of Abdi Guyo as majority leader.
This was communicated by Jubilee Party Secretary-General Raphael Tuju (above) yesterday after a consultative meeting with all the 66 Jubilee MCAs at the party's Pangani headquarters.
Tuju moved to quell the protracted leadership wrangles that have been rocking the city assembly by reiterating that Jubilee Party recognises Abdi Guyo as majority leader, Peter Wanyoike as deputy majority leader, MCA Paul Kados as majority whip and MCA Waithera Chege as deputy majority whip.
Interim leadership
He made it clear that the interim leadership of Dandora Phase three MCA Charles Thuo, nominated MCA June Ndegwa and Ziwani MCA Millicent Mugadi appointed in November 2019 has been replaced.
"The letters I previously wrote to the Assembly on the house leadership changes stand.
But I have told my members that I have received other letters from the governor, the speaker and the majority whip on the issue and I will be responding to them tentatively by Friday," said Tuju.
The secretary-general further warned that Speaker Beatrice Elachi and anyone opposed to the changes may face disciplinary action from the party, should they fail to effect the changes as communicated through an initial letter dated April 16 and another on May 28, 2020.
He, however, refused to get drawn into the drama surrounding the recent suspension of Majority Leader Guyo by the Speaker for missing more than eight consecutive sittings contrary to the House standing orders.
"What goes on in the house and in any disciplinary action that is being taken by the House, Jubilee party has no locus; just the same way as when the party has assigned specific individuals to be the leaders, the Assembly has no locus," said Tuju.
Guyo protested his suspension and termed it a witch hunt.
"I am confident the courts will nullify the decision of the powers and privileges committee to suspend me in coming days," he said.
Woodley/Golf course MCA Mwangi Njahia and South B MCA Waithera Chege welcomed the changes.
"We are positive the consultative meeting we had today will lead to normalcy in the county assembly," said Njahia.