We chose Wamunyinyi because he is Ford Kenya through and through, says Dr Simiyu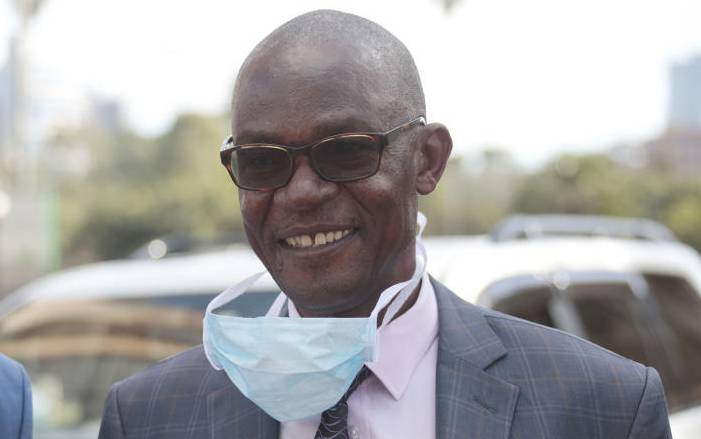 Kanduyi Member of Parliament Wafula Wamunyinyi has the DNA of Ford Kenya and understands the party ideals more than any other person.
This was the sentiment of party Secretary-General Dr Eseli Simiyu as he defended their decision to settle on Kanduyi legislator as the temporary replacement of embattled Bungoma Senator Moses Wetangula for the party's chairmanship.
While addressing the press in Nairobi, Tongaren MP Eseli Simiyu (above) said that the National Executive Council of the party, which sat last week to oust Senator Wetangulia considered Wamunyinyi for the position on an interim basis because of his long term stay in the party, which has enabled him to internalise the party's values required for Kenyan politics.
"Amongst us, he is the oldest person with a long-lasting relationship with this party. He knows the ideals of this party, they are ingrained in his DNA. Given that he faced the time when things were very difficult for new parties to move," he revealed.
Wamunyinyi also warned Wetangula against what he termed as defying the directives taken by the party's structure. He cautioned the Bungoma Senator that the party would sanction a disciplinary action against him if he continues with defiance.
The two were speaking after tabling documents on changes of the party leadership before the acting Registrar of Political Parties Ann Nderitu. Dr Simiyu exuded confidence that they had adhered with all the regulations required for the transition.
"As Secretary-General I followed all the laws and regulations that needed to be followed to be able to file our returns with the Registrar which by the grace of God we were able to file this morning," he said.
Senator Wetangula, on the other hand, has maintained that he is still the legal party leader of Ford Kenya. He told KTN News over the weekend that his removal lacked legal framework, hence null and void, as he vowed to continue discharging his duties as party leader.