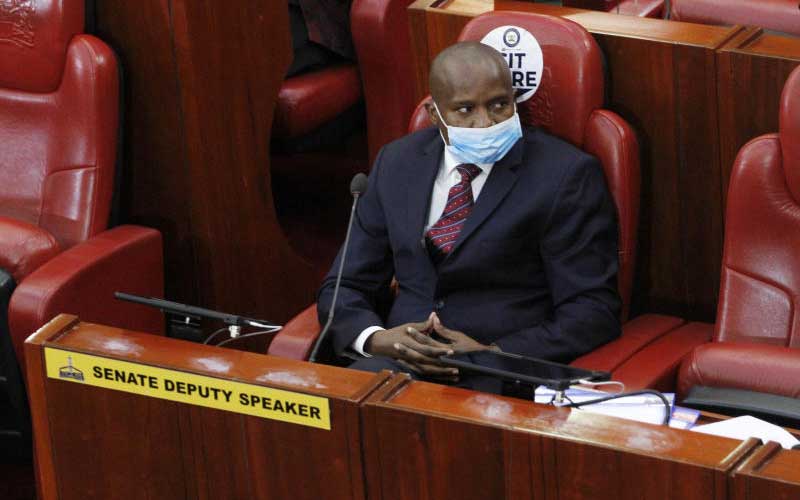 Ousted Senate Deputy Speaker Kithure Kindiki (pictured) now wants President Uhuru Kenyatta to appoint a resident of Tharaka Nithi to a senior position in government after his exit.
At the same time, the senator has rejected offers to serve in any other position in the Senate.
"I have learnt through the press that the Jubilee Party has recommended me to serve in another capacity in the Senate. I respectfully decline the offer. Henceforth, I want to focus on serving the people of Kenya as the senator for Tharaka Nithi," he said in a statement.
Prof Kindiki, in his first communication on his ouster, reaffirmed his loyalty to the Jubilee Party and support for President Kenyatta.
Read More
"I respectfully appeal to President Kenyatta's administration to hasten completion of several road, water and other development projects that began in 2013 but have since stalled. Additionally, I request the president to compensate the people of Tharaka Nithi for my removal by appointing another son or daughter of the county to a senior position in government in the wake of reports of a possible reorganisation of the government," he said.
Exit speech
The Tharaka Nithi senator further thanked those who stood with him during his tribulations at the Senate, but reiterated he would remain loyal to Uhuru.
"I request the residents of Tharaka Nithi and Kenyans at large to remain calm and focused on the things that matter to us collectively as a nation. I reiterate my remarks in my exit speech on the floor of the Senate on the day of my removal that I remain a loyal member of Jubilee and a supporter of President Uhuru Kenyatta until the end of his term in August 2022," he said in the statement that was dated May 26.
He appreciated leaders from different fields who pleaded, albeit in futility, with the Jubilee leadership and Uhuru to spare him from the removal process fronted by Majority Leader Irungu Kang'ata.
Kindiki said: "I thank the Ameru Njuri Ncheke Council of Elders, the Tharaka Council of Elders, colleague political leaders, and hundreds of Kenyans who stood with me during my political crucifixion last week."
He added that the social media accounts bearing his name and which have seen much discussions in the wake of his removal were not his.
"I shut my Facebook and Twitter accounts two years ago and I am not on social media. When I decide to return to social media, I will do so formally. Ignore malicious parody accounts, which are uncharacteristic of me," the statement said.