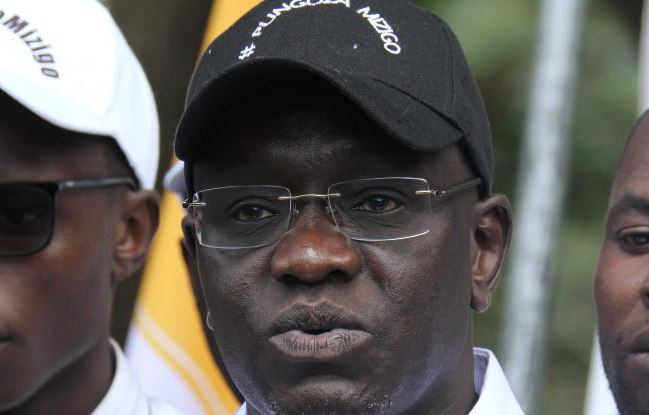 The Thirdway Alliance Party is next week expected to submit its Punguza Mizigo Kenya (PMK) Bill after getting more than one million signatures to support its bid to amend the Constitution.
The Ekuru Aukot (above)-led team is planning to submit its Bill and the requisite signatures ahead of the Building Bridges Initiative (BBI) team.
The move aims to get in ahead of President Uhuru Kenyatta and ODM leader Raila Odinga, who are championing the law change through the BBI process.
On March 18, Thirdway Alliance launched its second attempt to amend the Constitution under a new initiative dubbed PMK.
A source familiar with the process but who sought anonymity for fear of reprisal told The Standard that the signatures collected to endorse the Bill were secured online.
"The initiative has received more than the required numbers to meet the constitutional threshold," the source said.
In the last three months, the party has been pushing for online signature endorsements as it worked on the Bill.
Further, while the BBI proposal envisages a complete overhaul of the Independent Electoral and Boundaries Commission's (IEBC) commissioners and secretariat, the PMK Bill takes a softer stand.
Hatched a plot
The source further said Aukot has been warming up to Deputy President William Ruto.
"Some politicians, especially those supporting the DP, are uncomfortable with BBI proposals and have hatched a plot to help Aukot's Bill outwit the BBI process. It is a race against time," said the source.
However, Aukot dismissed this idea, but acknowledged that Ruto and his allies have been speaking out against BBI but have not come up with an alternative suggestion.
"Ruto and others have been opposed to BBI but they don't have any proposal. It's only Aukot who has come up with a Bill on how to address the challenges facing our country," said Aukot.
He claimed that during Punguza Migizo I, the State spent Sh1.5 billion to prevent MCAs from supporting the document.
"I only used Sh14.5 million from Kenyans, yet they spent Sh1.5 billion to fight me. I am independent and working independently, devoid of any political patronage," said Aukot.
"We took into account the comments we got from the 29 counties we visited. We have only been taken aback by the Covid-19 pandemic. Once things normalise, we shall hit the road and hype PMK."