Tiaty MP: DP Ruto is too angry to work, he should resign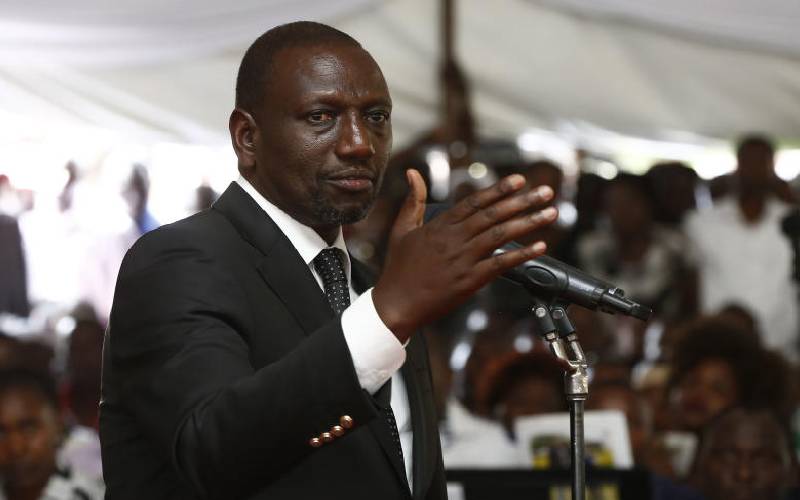 Tiaty MP William Kamket has challenged Deputy President William Ruto to resign, saying he has become too angry to perform his duties as the country's second in command.
Speaking during KTN News political show, Big Story, Kamket wondered why the National Cohesion and Integration Commission (NCIC) is yet to invite DP Ruto to explain his remarks during the burial of slain AP officer Kipyegon Kenei who was killed weeks ago in connection with the Sh39 billion fake military equipment deal.
"He should have been invited to go and explain what he meant by his 'system want to finish him' remarks, because it is a threat to national security," said Kamket.
He described Ruto's recent remarks as reckless and an insult to the family of Kenei who are seeking justice for their son who was murdered in cold blood.
"It is said that the DP chose Kenei's burial to make the unfortunate remarks at the burial of the slain officer," he added.
He told Ruto to be man enough and quit the government if he has lost confident in President Uhuru Kenyatta or felt the President had lost confidence in him.
"If he has lost confidence in his boss, let him quit instead of accusing the same government he serves of planning to kill him," he said.
He said Ruto was playing the sympathy card with his assassination claims, a move he said will soon boomerang in the face of the DP.
"He should stop cheating Kenyans that some people want to kill him, is all in pursuit of sympathy card which will not help this country."
Kamket said there was nothing wrong for Ruto's political opponents to scheme against it saying that is what politics is all about.
He said that even the DP himself was a serious political schemer that is why he has rose in rank to become the Deputy President in Kenya.
"He (Ruto) has schemed against Raila Odinga, Kalonzo Musyoka and even Mzee Moi when he was leaving office, so it is normal," he said.
But his Soy counterpart Caleb Kositany defended DP Ruto saying he is not mad to say that there are people after him.
He said when some people were planning to harm the DP in 2019, he went public and they stopped their schemes.
"When he mentioned that some people were planning something against him in Lamada Hotel, the meetings stopped forthwith."
He said the DP will not quit government saying he and President Uhuru Kenyatta were elected as a pair and will not be forced to quit.
He dared those planning to bring impeachment against Ruto should bring it on and they will meet them on the floor of the House.
"Let them make good their impeachment threats and try if they have the numbers to push their agenda," he said.
Ruto recently claimed that there was a group of individuals in the government out to finish him politically and even kill him. He claimed the same group were behind the killing of Kenei.
"I know this young man was killed to scare me, but I want to tell you, Kenya belongs to all of us and I will not be cowed," he said.