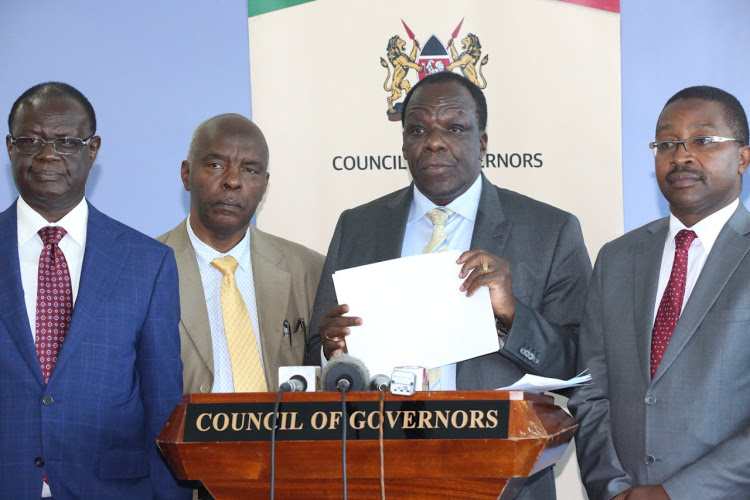 County governments could soon have access to more funds to strengthen devolution following recommendations in the Building Bridges Initiative (BBI) report.
The report, which will be released to the public today at the Bomas of Kenya, seeks to increase resources to the 47 counties to at least 35 per cent of the devolved units' equitable share of the revenue.
Currently, counties get not less than 15 per cent of the equitable share of revenue raised nationally by the national government.
The proposal is a big win for governors who have been pushing for more funds to go to the grassroots.
The BBI team picked by President Uhuru Kenyatta and ODM leader Raila Odinga described devolution as being 'largely successful', but noted that counties faced a challenge in resource allocation.
Read More
The report further proposes that the amount of money sent to the counties should be determined primarily by population numbers. But counties in northeastern Kenya, which are sparsely populated, have opposed this formula that is currently the subject of public hearings in the Senate.
"When dividing revenue between counties, use a formula that focuses on ensuring services reach the actual settlements of people so that resources are not allocated on the basis of uninhabited landmass," reads the abridged version of the BBI document.
Transfer of functions
The report is also pushing for finalisation of transfer of functions from the national to county governments to avoid duplication of duties in the two levels of government.
"Follow the maxim 'money follows functions' in allocating money between the two levels of government," the report recommends.
The report further suggests that development projects in each of the 1,450 wards should not be influenced by party or political affiliations.
In the past, governors have been accused of freezing projects in areas where ward representatives have refused to sing to their tune.
"Ensure that financing development in each and every ward is done in a transparent and equitable way within the five-year term," says the report.
The document also seeks to have newly elected county governments compelled to complete the projects initiated by previous governors before embarking on new ones.
"A governor who wants to abandon an old project must formally communicate credible reasons to the public," it proposes.
Numerous projects have been abandoned across the counties after county administrations were removed from office, resulting in the loss of billions of shillings of taxpayers' money.
The BBI document also seeks to prevent loss of public funds by insulating county assemblies from political interference by the county executives.
And the report has put pressure on the devolved units to raise additional revenue by making it attractive for residents to engage in business.
"They should develop biashara mashinani in which there are high priority efforts by every county to support local groups to develop businesses through partnerships," the document proposes.