Kenya, Somalia agree to restore ties, hold talks on disputed boundaries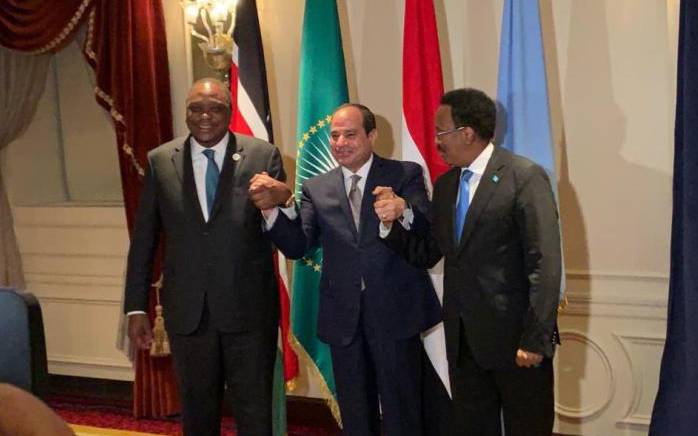 President Uhuru Kenyatta and Somalia's Mohammed Faarmajo met on Tuesday night in search of a diplomatic solution to the maritime border dispute that has escalated tensions between the two countries.
The two leaders met on the sidelines of the ongoing United Nations General Assembly (UNGA) in New York, US.
The case is before the International Court of Justice (ICJ) in The Hague, Netherlands, and hearing that was scheduled to begin this month was postponed at the request of Kenya.
According to the Ministry of Foreign Affairs Cabinet Secretary Monica Juma, Kenya believes in dialogue and negotiations to resolve the impasse.
Although the details of the closed-door meeting are still scanty, Africa Union (AU) President Abdel Fattah El-Sisi brought the two after the meeting for a show of solidarity and good faith to resolve the matter.
Insiders' privy to the talks told The Standard the two leaders had agreed to normalise ties that have become frosty because of the dispute.
Kenyatta and Faarmajo agreed 'to restore relations to previous status' and 'take diplomatic steps to build confidence between the two governments'.
"President Kenyatta met with his Somalia counterpart in a tripartite meeting facilitated by AU chair on the sidelines of the 74th session of UNGA," she stated.
Dr Juma added: "Kenya welcomes this first meeting which is a step in the first step in the right direction."
The CS indicated that Kenya has always believed in and continued to call for negotiations as the best framework for finding African solutions for African problems.
The two leaders have been in the US and engaging in a number of discussions aims at accelerating the Sustainable Development Goals (SDGs) by 2030.
President Kenyatta and the CS has indicated that the national statement will focus on peace and security, good governance, multilateralism and regional cooperation.
The tiff with Somalia escalated when Kenya accused Ethiopia of siding with the federal government of Somalia during the controversial Jubaland elections. This is the second time this year that both countries are committing to restoring diplomatic relations.
In this new agreement, Somalia reportedly insisted the maritime case should be left to the ICJ for final arbitration.
Signalling good prospects ahead, the AU chair and two leaders took pictures shaking hands in solidarity.
In March this year, Ethiopia's Prime Minister Abiy Ahmed mediated talks between the two East African neighbours.
Simmering tension
Kenya and Somalia had been dragged into the simmering tension over a maritime and territorial dispute that is currently before the court.
Since February when Kenya accused Somalia of auctioning oil and gas fields in the disputed maritime area, relations between the two countries have grown frosty.
This situation degenerated resulting in recalling of diplomats of the two countries who had been working to manage incidents including suspension of direct flights from Mogadishu to Nairobi