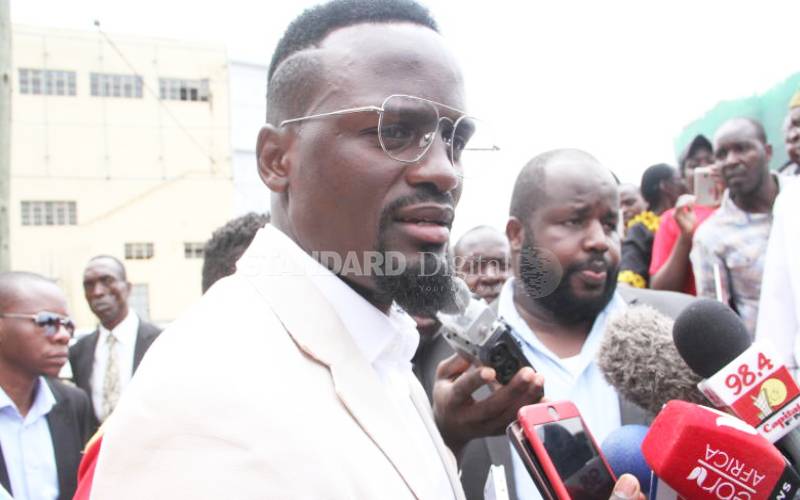 An aspirant who was eyeing the Kibra seat on a Jubilee ticket has challenged the party's decision to tap McDonald Mariga (pictured) as the flag-bearer.
Morris Peter Kinyanjui yesterday went to the Political Parties Dispute Tribunal (PPDT) claiming the Jubilee Party had failed to conduct nominations in line with its constitution.
"Mariga proceeds with a campaign that is founded on a nomination process that was illegal and in contravention of my constitutionally protected rights," says Mr Kinyanjui.
Through lawyer Benson Njagi, Kinyanjui has named Mariga and Jubilee's National Elections Board (NEB) as the key respondents.
Read More
The Independent Electoral and Boundaries Commission is named as an interested party in the matter. Kinyanjui claims the NEB flouted its own laws when it settled on Mariga.
The petitioner says he was invited for an interview via text message on August 29 at Jubilee headquarters. A second message, he says, indicated that the interview had been postponed to September 2.
He attended the interview and was ushered into a boardroom, where the NEB chairman told him they were checking aspirants' qualifications and suitability for the vacant parliamentary seat.
Kinyanjui claims he sought clarification that the interview was not a selection process and was assured that any nomination would be conducted according to the party's constitution.
"Later, during the 9pm news, I saw reports that the National Elections Board had declared one Mcdonald Mariga as the Jubilee Party candidate for Kibra Constituency by-election scheduled for November 7," Kinyanjui says.
He adds that he complained to the National Appeals Tribunal and sought to have Jubilee's decision nullified. "The appeal came up for hearing on September 6 ... and on September 7 the tribunal dismissed my complaint, thereby necessitating the filing of this case."