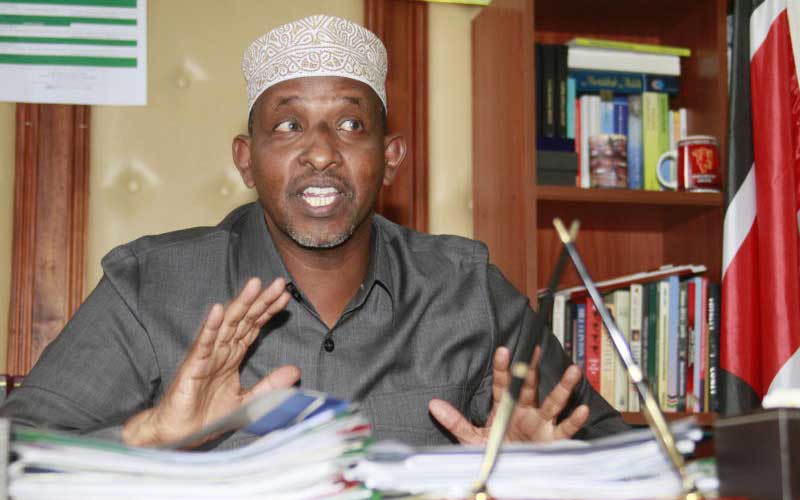 National Assembly Majority Leader Aden Duale (pictured) has said the Building Bridges Initiative (BBI) is anchored in law and can have its report tabled in Parliament. This is uncharacteristic of Duale who has been ambivalent on the referendum through the BBI. But now the Garissa Township MP says he supports the constitutional review if it will push the country into a parliamentary system of government. In an interview with the
Sunday Standard
, he said they had tabled a motion in the House immediately after its formation.
SEE ALSO: Fierce duel looming in race to succeed five county bosses
"Together with Minority Leader John Mbadi, we tabled a motion on the BBI and therefore the initiative is well constituted and can have its report received by Parliament," he said. Although Jubilee Party did not present its views on the BBI, Duale said once the report is received, the Jubilee Party, with the leadership of President Uhuru Kenyatta and his Deputy William Ruto will have a party parliamentary meeting and take a position on the matter. Duale's position is different from that of his Tanga Tanga group that has handled the Uhuru and Raila initiative with suspicion. Now he is rooting for a parliamentary system of government to cure the political dominance of the presidential seat by the big tribes. "On the issue of the structure of government, Raila and I are political bed fellows. I support it because it will give equal opportunities to all the communities in the country to have a share of leadership positions," he said. Duale added that the move to support the parliamentary system was personal and encouraged other leaders to make independent decisions.
SEE ALSO: Why civil society has no reason to reject the BBI
But his position disagrees with that of National Assembly Justice and Legal Affairs Committee Chairman William Cheptumo, who has questioned the method of picking members of BBI. "How were the 14 members picked to collect views from the members of the public? Did Parliament have input in approving the names? After they submit the final report to both the President and Raila, where will it go?," posed Cheptumo.