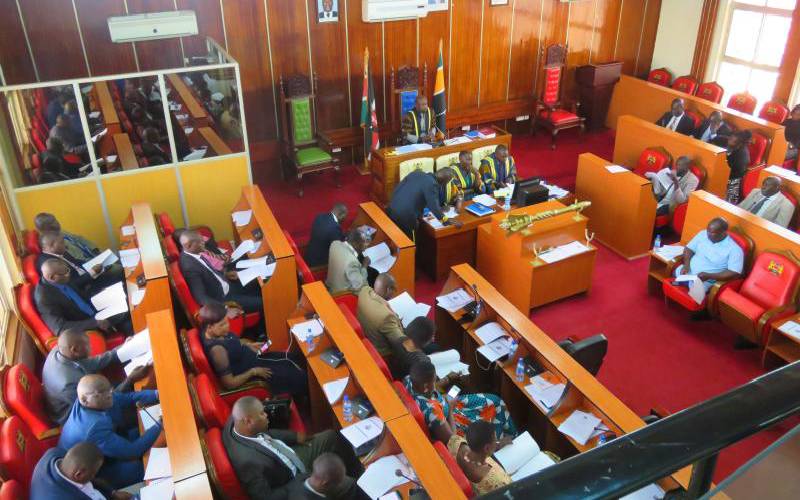 The anti-graft agency has summoned 41 Siaya MCAs in connection to a trip they recently made to Uganda. The Members of the County Assembly (MCAs) are expected to present themselves to the Ethics and Anti-Corruption Commission (EACC) regional headquarters from Monday next week to August 26 to shed light on the trip following claims it was fictitious. The developments came even as Speaker George Okode defended the Assembly over any wrongdoing and read malice in the probe. In a letter dated July 31 and addressed to the Mr Okode, the MCAs are expected to carry their travel documents that they used for the trip.
SEE ALSO: Boost for EACC after court rules it does not require DPP consent to charge suspects
Yesterday, EACC officials and some assembly officials confirmed to The Standard that the investigations had been ongoing for the last one month. Detectives had pitched tent at the county assembly to investigate the trip as well as recruitment of interns, which some discontented MCAs have claimed was not done in accordance with the law.
The truth
They have already questioned a number of officers to establish the truth behind the trip after some residents petitioned EACC to investigate alleged fraud. "It is true the EACC have been doing investigations. The probe presents us with the perfect opportunity to present the facts and exonerate ourselves," said Okode.
SEE ALSO: Why EACC is after university over multi-billion-shilling building
According to the Speaker, the MCAs did not break any law by going to Jinja, Uganda and dismissed claims that the they had pocketed Sh200,000 each. Another issue is the claim that some MCAs signed for allowances despite not making it for the trip. Some residents had claimed the MCAs had been around even though reports indicated that they were on a trip. Okode, however, told The Standard that only four MCAs did not make it to the trip and that they were surcharged. "We followed all the right procedures and even got a clearance from the Devolution ministry. There is no law that was broken and foreign travels are also not illegal," he said. The assembly leadership claims that they have video clips of the training they attended while on the trip and expressed confidence that they will be exonerated.
SEE ALSO: EACC seeks to recover Sh80m from trader
In May, three Siaya residents petitioned the anti-graft agency to investigate the trip and also claimed that ghost workers had been drawing salaries.