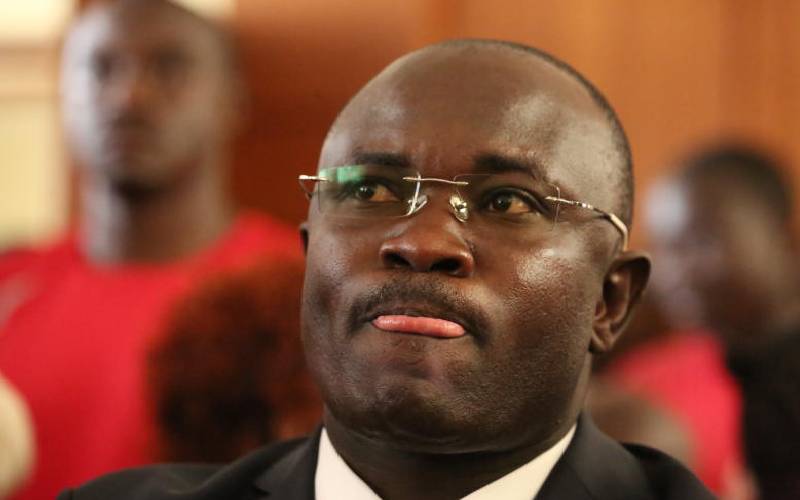 An Ugenya parliamentary seat aspirant has accused the Orange Democratic Movement (ODM) of throwing mud at him ahead of the April 5 by-election. David Ochieng yesterday said he had lodged a formal complaint against the Orange party with the Independent Electoral and Boundaries Commission (IEBC). The former legislator claimed ODM had linked him to Deputy President William Ruto in a bid to make him unpopular. He denied the allegations and blamed his woes on the ongoing feud between Ruto and members of the ODM party. "They are calling me names but I will stick to the agenda I have for the people of Ugenya. I do not want to be drawn to their propaganda," said Ochieng.
SEE ALSO: Akombe: Chiloba warned me over testifying in Msando death probe
Ochieng has already lodged a complaint with IEBC over alleged utterances of some ODM members, including Siaya Governor Cornel Rasanga, who have been campaigning for Christopher Karan. Last week, Rasanga was quoted threatening to block Ugenya residents from accessing resources if they failed to vote for Mr Karan, the ODM candidate. "Their comments show how they are desperate to win the seat. They always resort to intimidation and always get dirty in their campaigns," said Ochieng, who is running on the little-known Movement for Development and Growth (MDG) party. Karan, however, defended Rasanga, arguing that he meant he would only work with an ODM legislator and accused Ochieng of seeking to gain mileage through projects that were started by the national government. Allegations of a smear campaign formed part of the reasons that courts nullified Karan's election last year.
SEE ALSO: Ezra Chiloba: After polls storm, I found new purpose in farming
With three days to the by-election, two candidates have exuded confidence that they will clinch the seat. Four candidates will face off in the poll. Karan faces a herculean task recapturing the seat he lost after a successful petition by Ochieng. He is relying on several factors including the strength of the ODM party in the region to market his candidature. ODM has also intensified campaigns for him. Over the weekend, senior party members pitched tent in the constituency to make a final push for Karan. But Ochieng is not leaving anything to chance. The former MP, who boasts of an exemplary development record during his stint as an MP, is spending the last days to the poll in an intensive door-to-door campaign.
SEE ALSO: IEBC likely to use KIEMS in 2022 elections- commissioner
He told The Standard that he is not threatened by the ODM machinery and is confident of upsetting ODM. "I have already done 40 rallies and the attendance has been overwhelming. I have also done civic education and I am now just urging the people to turn up and vote," said Ochieng. The constituency falls in Raila Odinga's backyard. His ODM party clinched a majority of elective positions during the 2017 elections. Karan is hoping that the ODM wave in the region, among others, will work in his favour. "The election is going to be determined by a lot of things including development record and the party strength," he said. According to Ochieng, the agenda of the different candidates contesting the poll is what will determine the outcome of the elections. He criticised the ODM "dictatorship" in Luo Nyanza and accused the ODM fraternity of resorting to intimidation and threats to compel voters to support their candidate. In the election that was nullified by the courts, Karan defeated Ochieng with less than 400 votes. Interestingly, although the two claim to have started a number of projects in various sectors including agriculture and infrastructure, there is a road they are all taking credit for. The Ugunja-Rumbwa road was launched by President Uhuru Kenyatta a few months ago when he visited the region. While Ochieng is saying he visited the Ministry of Roads 272 times within a span of three years to have the road built, Karan on the other hand says construction of the road was pushed for by Raila Odinga. "We have done a lot but we still have a lot to do. There are some three roads we need to tarmac and we are also in the process of establishing a youth league to promote talent," said Karan. The seat has attracted two other candidates; Brian Omondi of Thirdway Alliance Party and Daniel Juma of Grand Dream Development Party. Their campaigns have however been low-key.