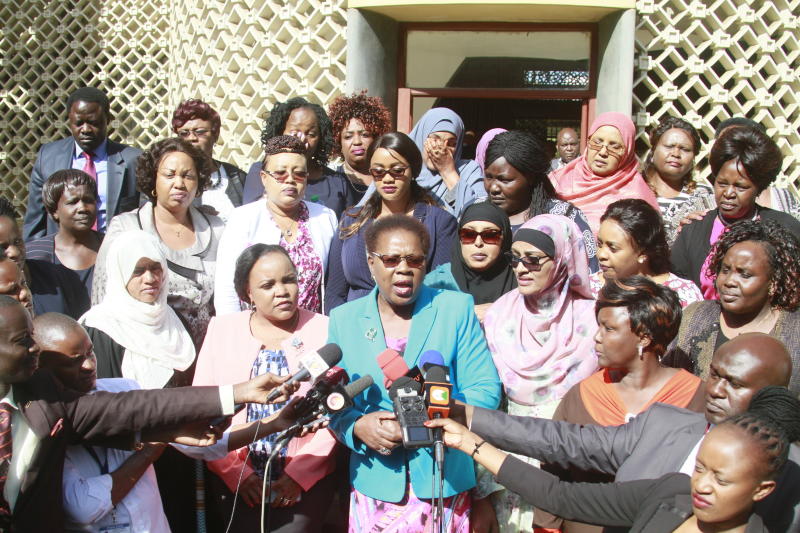 A Bill intended to put more women into Parliament flopped for the fourth time yesterday.
The two-thirds gender Bill suffered a quorum hitch after only 174 out of the minimum 233 members were present during voting. The law requires that two-thirds of the 349 MPs must be present in the House or the motion is lost.
The Bill sponsored by Majority Leader Aden Duale seeks to have members of either gender, who fail to meet the requisite numbers after a General Election, nominated to both Houses.
While moving the motion, Mr Duale said the Bill would ensure women were no longer left out of leadership posts.
"Great nations of Germany and United Kingdom are led by women. Time is ripe for us to have our own Theresa May; it is time we have our own Angela Merkel," said Duale.
Read More
Yesterday's session was characterised by electronic system failure that had put the number of members present at 34 despite a head count ordered by National Assembly Speaker Justin Muturi.
"The manual head count shows that there are only 174 members present in the House. If the members are less than 233, then the net effect is that the motion is lost. This motion is therefore lost. Next order," said Mr Muturi.
Bridge gap
The Bill seeks to bridge the gap of women in both the National Assembly and the Senate to conform to the Constitution.
Women MPs then left the House in protest chanting, 'No gender Bill, no referendum', before they addressed the Press.
The first salvo was fired by Kandara MP Alice Wahome who questioned the commitment of the Jubilee administration and Duale.
"We know that Duale, the sponsor of the Bill, was not committed; the Government was not committed. The Kenyan public is still pregnant that the Gender Bill will be passed. This Parliament should now be dissolved," said Ms Wahome.
Her sentiments were echoed by Kenya Women Parliamentary Association (Kewopa) chair and Kirinyaga Woman Rep Purity Ngirici, who said they would mobilise women to stop the referendum unless the Bill was passed.
Ms Ngirici said women MPs would not pass Government Bills, including the Supplementary Budget yet to be tabled in the House.
"We have resolved that we will not have a referendum unless the two-thirds principle is met. We have not seen any support towards this Bill the way we see mobilisation being done with other Government Bills. We will not pass any Bill," she said.
The women's quest for equal representation in Parliament has been an eight-year long protracted tussle, with a majority of their male counterparts showing no interest in supporting the Bill.
Male chauvinism
Ngiciri, who was flanked by Ps Opondo Kaluma (Homa Bay Town) and Gideon Koskei (Chepalungu), said they would seek the courts help to declare Parliament unconstitutional so that Kenyans could go back to the ballot.
Mr Kaluma echoed the sentiments by the women MPs, saying, "We have not lost this Bill because there was no lobbying. We have lost the Bill because of entrenched male chauvinism. I doubt the commitment of the House leadership and the national leadership towards the women of this country."