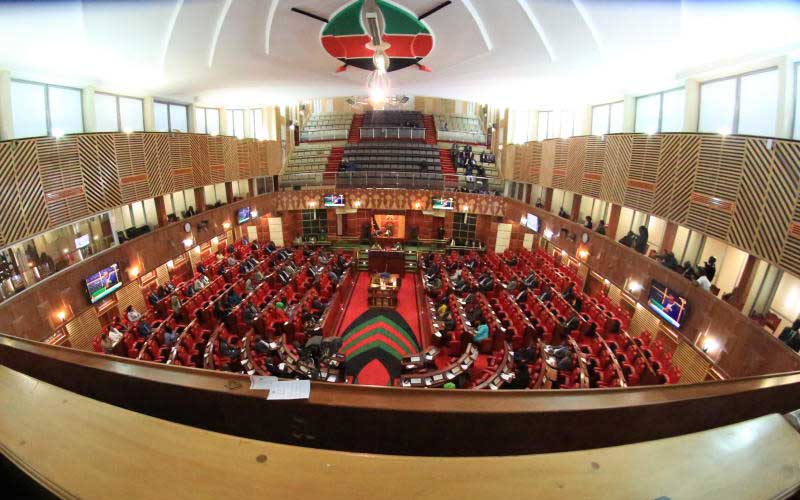 Members of Parliament will on Wednesday take a vote on the Gender Bill that has remained elusive for years.
Consequently, National Assembly Speaker Justin Muturi has rallied MPs to turn up for the vote that requires at least two-third of the House membership.
The vote on the Constitution of Kenya (Amendment) Bill, 2018 sponsored by Majority Leader Aden Duale was last November postponed after the House lacked the requisite numbers.
"It is important for the assembly to heed to the provisions of the Constitution. Please mobilize yourself on Wednesday to express yourself one way or another," said Muturi.
Mobilise the lawmakers
Read More
And Duale told the MPs that the leadership of the House had directed Majority Whip Benjamin Washiali, his deputy Cecily Mbarire and Minority Whip Junet Mohammed and his deputy Chris Wamalwa to mobilize lawmakers in ensuring the Bill is passed.
"I expect my colleagues and whips to do their work. You are now under instruction from the leadership to stay and mobilize members to pass the bill," said Duale.
Additionally, the Garisa Township MP also appealed to female MPs to mobilise their counterparts as well as turn up for the vote.
But with just a day to the vote, there is no much lobbying going on in the House compared to last year when both President Uhuru Kenyatta and Opposition chief rallied their MPs to support the Bill.
The Bill requires the presence of at least two-thirds of the 349 legislators – 233 MPs – for it to be subjected to the vote.
The House leadership has also advised women MPs under Kenya Women Parliamentary Association (Kewopa) to shelve their plans to travel to United States for a conference on the status of women to allow for lobbying.
The female MPs had requested Muturi to push the vote to allow them attend the conference, but the Speaker declined the request.
This latest attempt by Duale, however, risks a bloated Parliament because the number of MPs to be nominated would be determined after the results of the next General Election.
It also means that male politicians will be locked out of the limited nomination slots. Currently, there are 32 nominated MPs — 20 in the Senate and 12 in the National Assembly.
The Senate, which has 67 lawmakers, has 21 women, 18 of whom are nominated. In a similar scenario in future, the two nomination slots handed to male politicians would be forfeited thus pushing the number of female senators to 23.
And in the National Assembly, which has 349 MPs, 76 are women. Of these 47 are elected woman representatives, 23 elected constituency MPs and six are nominated.
Should MPs pass the Bill, Parliament will now have have at least 117 female MPs