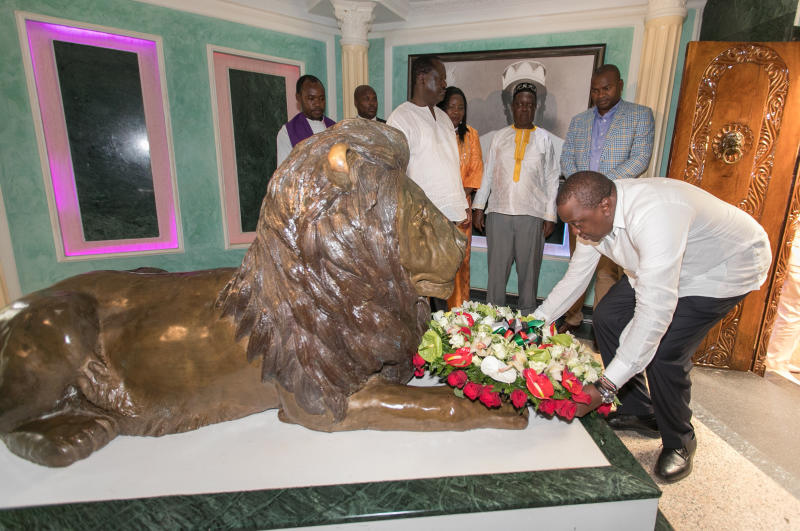 President Uhuru Kenyatta's visit to Bondo, the ancestral home of Raila Odinga marked an important turning point in their bumpy family relationship dating back to 1952.
The president yesterday visited Kang'o Ka Jaramogi, the mausoleum of Raila's father, Jaramogi Oginga Odinga in a special act that cements their new-found political friendship.
This was the second time Kenyatta was visiting Kang'o Ka Jaramogi. His first visit came when he was the Finance minister in the grand Coalition government. He went to the home after conducting a funds drive at the nearby Nyamira Girls Secondary School.
Introduced him to family
Just as his father embraced founding President Mzee Jomo Kenyatta on the first day of their meeting, one chilly afternoon in 1952 at Maseno trading centre, Raila yesterday hugged and treated Uhuru to breakfast at his Opoda home before they drove to the mausoleum in Sakwa.
Read More
The Head of State spent one hour at the mausoleum shortly after presiding over the graduation ceremony of Jaramogi Oginga Odinga University of Science and Technology.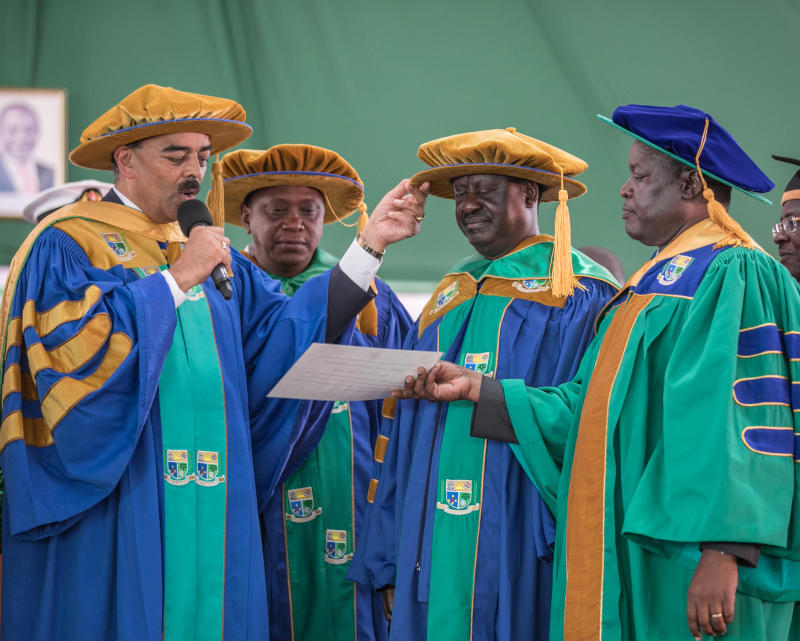 Uhuru was accompanied by Raila, his brother Oburu Oginga and sister Ruth. At the home, the president was received by Alogo Raila, Oginga's only surviving cousin who introduced him to family members.
He was then ushered into Oginga's mausoleum where Rev Captain Kennedy Owino of St Peter's ACK Church Nyamira offered prayers before the Opposition leader showed Kenyatta around the mausoleum.
Uhuru, who was in high spirits shook hands with the family and looked at the portraits and artifacts in the mausoleum.
He visited what used to be the late Oginga's main house before going to the family's burial ground.
Raila received a thunderous welcome from the villagers who were in the compound.
He took the microphone and introduced Kenyatta saying that the President had passed by to say 'hello'.
"Today we have a very special guest in this home. It is my younger brother (Uhuru), and we have been with him since yesterday. I decided to bring him home so that he can see where Jaramogi sleeps," the Opposition leader said.
Expressed satisfaction
On his part, the president expressed satisfaction with the manner in which he was received during his two-day tour of the region
"Despite the heavy assignment we had at the University, I felt it was in order to come home and show respect and honour to our father (Jaramogi). Due to the tight schedules, we may not say much now, but I hope we will be back," Uhuru said.
The two leaders are the political bigwigs just as their fathers dictated the pulse of the country's politicallandscape.
As they had breakfast served by Raila's wife Ida yesterday morning, the country was monitoring their movements and reading their lips because their activities have a profound meaning for the politicalfuture.
Just as Raila and Uhuru had kind words for each other, Jaramogi had admiration for Mzee Kenyatta after he was introduced to him by freedom fighter Ramogi Achieng Oneko.
Their friendship blossomed for many years before it was rudely severed by political differences that saw Kenyatta detain Jaramogi in 1969 after chaotic and bloody confrontations in Kisumu.
In his book, "Not Yet Uhuru" Jaramogi writes candidly about his excitement when he first met Mzee Kenyatta.
The founding father is said to have first visited Nyanza in 1951 as he traversed the country to mobilise Kenyans against the colonial rule but it was not until the following year when he met Jaramogi.
"It was in 1952 that Kenyatta came to Kisumu again. Achieng' Oneko introduced me to him and for several hours before the Kisumu public meeting, we had close talks at the Maseno Store," writes Jaramogi in his book.
He quotes Kenyatta as having told him: "We must get to know one another. The Kikuyu must get to know the Luo thoroughly."
Jaramogi says the founding father proposed an exchange visit by elders from the two communities as they fought to for political and economic independence. The meeting was the beginning of a tight political friendship between Jaramogi and Kenyatta. They arranged more public meetings which were stopped by the colonial authorities.
On June 27, 1952, Jaramogi wrote an emotional letter to Kenyatta thanking him for the visit to Maseno and Kisumu.
"You can't imagine the happiness I derive from your one-day visit to Maseno on Tuesday.
"I really enjoyed your company heartily and hope we will have many more moments like that in the coming days of our self-government. In this I am your disciple to the hilt," wrote Jaramogi.
He added: "You were so much at home and felt so very much native to the house as if Maseno had been your home in Kikuyuni. I will never forget that memorable day…. When you return in August, I will give you as much assistance as will be possible from a nationalistic businessman. I remain Your Disciple in Nationalism."
In the book, Jaramogi confesses deep trust in Kenyatta and says his speeches in Kisumu moved him deeply.
He quotes Kenyatta as saying: "The Tree of Freedom is planted. For it to grow, it needs the water of human blood." He says Kenyatta's strong and fiery talks frightened some people in Nyanza. It is against this background that some observers are saying history is repeating itself.
Changed the political narrative
Uhuru and Raila's friendly speeches and promises never to engage in political fights again has changed the political narrative, not only in Nyanza but across the country.
On Friday, they announced a new beginning with President Kenyatta hinting at a referendum to usher in a Parliamentary system of governance that will ensure an inclusive government.
"It is high time we had a re-look at things and have a system that will stop hatred and bloodshed during elections.
"A system that will address the winner-takes-all arrangements which end up excluding some communities from the government," Uhuru said.
Observers now say Uhuru may be remotely giving his blessings to the proposed referendum expected to introduce the posts of Prime Minister and other positions.