You'll remember me for graft war, cohesion: Uhuru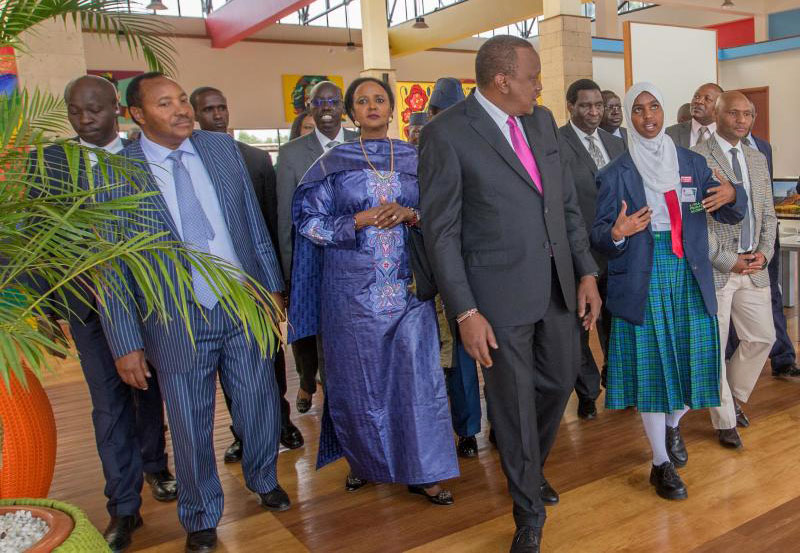 President Uhuru Kenyatta yesterday singled out unifying the country and winning the ongoing fight against corruption as among the key pillars of his legacy.
Speaking when he officially opened the M-Pesa Foundation Academy in Thika, Uhuru said he was optimistic that by the time of his retirement in 2022, he would have united the country and won the war on graft.
"It is my hope that I will leave a united and cohesive society, and that we shall have won the war on corruption," said Uhuru.
The head of State made the remarks while responding to a student who asked him what he wanted to be remembered for once he left office.
The President's latest remarks perhaps point out how serious he is about his legacy.
On March 9, the two heirs of Kenya's most powerful political dynasties - the President and his political rival, Raila Odinga - stirred the nation when they stood side by side, shook hands and pledged reconciliation.
The two leaders went on to form a task force aimed at ending hostilities that had been fanned by controversial presidential elections last year.
They appointed the Building Bridges team comprising Adams Oloo, Agnes Kavindu, Amos Wako, Florence Omose, Saeed Mwanguni, James Matundura, John Seii and Lawi Imathiu.
Other members are Maison Leshomo, Mohamed Yusuf Haji, Morompi ole Ronkai, Peter Njenga, Rose Moseu and Zecheus Okoth.
The team is tasked with operationalising the reconciliation efforts.
The task force joint secretaries are Martin Kimani and Paul Mwangi.
The President has on several occasions told off critics of the handshake, saying he will not allow them to defeat the unity process.
Two leaders
The two leaders aim to tackle ethnic antagonism and competition, lack of national ethos, inclusivity, devolution, safety and security, and corruption.
The task force's terms of reference are "to evaluate the national challenges outlined in the Joint Communiqué of 'Building Bridges to a New Kenyan Nation', and having done so, make practical recommendations and reform proposals that build lasting unity".
Uhuru commended Safaricom for building the academy, which hosts bright students from needy backgrounds.
Safaricom Foundation chairman Michael Joseph said the company would educate, free of charge, the students up to university level in institutions of their choice around the world.