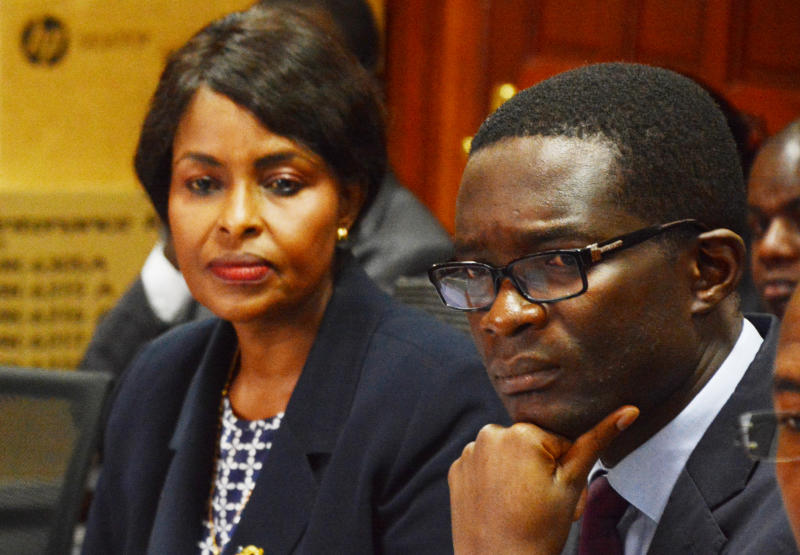 Embattled IEBC Chief Executive Officer Ezra Chiloba's woes appear far from over after chairman Wafula Chebukati cut short his court win celebration to resume work.
From the look of things, Mr Chiloba is an unwanted man at the electoral agency battling legitimacy following the resignation of four commissioners.
The chairman wasted no time to send Chiloba back home, not even allowing him to set foot in the premises of the commission located at Anniversary Towers.
Justice Stephen Radido's Thursday ruling that lifted the initial suspension by Chebukati that sent Chiloba on forced leave pending an audit on unspecified "procurement issues. But that was just a temporary reprieve.
Chebukati capitalised on the ruling to now properly send his CEO on a three-month compulsory leave.
Read More
"The commission has resolved to suspend you with immediate effect as the CEO/Secretary pending the completion of the comprehensive audit of all major procurements relating to the August 8, 2017 General Election as well as the fresh elections held on October 26, 2017," reads the letter to Chiloba, after a plenary meeting held on June 14.
He continued: "The issues under investigation are weighty and touch on your role as accounting officer. The outcome of the in-depth audit will form any further action by the commission."
In the letter copied to National Treasury Cabinet Secretary Henry Rotich and acting CEO Marjan Hussein Marjan, the chairman sought to take Chiloba through clauses 3 and 5 of his employment contract.
"You are responsible for the prudent financial management of the commission as well as the execution of all the commission's programmes and plans in line with the constitutional and legal mandate," stated Chebukati.
Outright violation
But of importance to Chebukati and Commissioners Prof Abdi Guliye and Boya Molu was the CEO's conduct.
The commissioners were irked with Chiloba's decision to sue the commission, in breach of his employment contract.
"The commission notes with concern that you have acted in outright violation of clause 14 (c) and 15 of your employment contract which prohibits you from suing the commission while in employment and disclosing the official/classified information, concerns, affairs, facts or accounts.
"Or any of its participants during your employment or after its termination for any reason without the prior written consent from the commission," reads the letter.
Resolution: "Based on the foregoing you are hereby suspended with immediate effect from your duties as CEO/accounting officer of IEBC for a period of three months."
This has dealt Chiloba a major blow, especially in the absence of former commissioners allied to him.