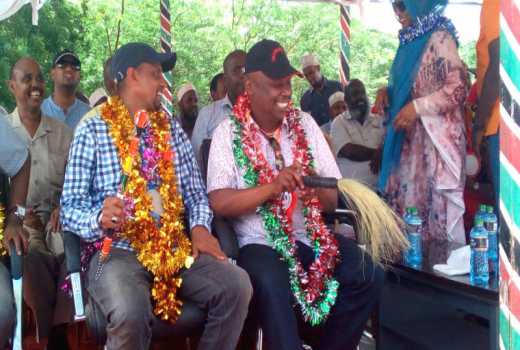 Political leaders allied to Kanu and Jubilee have intensified the push to have Baringo Senator Gideon Moi vie for the presidency in 2022. The leaders yesterday said the time is right for Mr Moi to lay strategies to ensure he takes over when President Uhuru Kenyatta retires. But the Kanu chairman said he would not engage in the 2022 debate for now, referring to President Kenyatta's plea to cease politics and focus on development. "I have no problem adhering to what the President said. Our primary aim now should be to respond to the needs of our people," Moi said at the homecoming ceremony for Fafi MP Abdikarim Osman, who was elected on a Kanu ticket.
SEE ALSO: Senator Gideon meets leaders from Kajiado and Nakuru
"Let us work now, then later we will all table our score cards and the people will decide. The issue of 2022 will be by the grace of God." The event was attended by Garissa Governor Ali Korane and MPs Naisula Lesuuda (Samburu West), William Kamket (Tiaty), Vincent Tuwei (Mosop), Isiolo Woman Representative Rahma Jaldesa, among other leaders. The leaders criticised those who are not willing to support Moi for the top seat. "It is not bad to ask to be elected president. Saying that Gideon Moi is a son of a former president so he should not vie is baseless. Even President Uhuru is a former president's son. Some of us were thought not fit to be leaders but we fought to be here," Tuwei said. Kamket said the reason he came up with a constitutional amendment to create the position of prime minister and deputy prime minister was to ensure proper representation.
SEE ALSO: We will walk with you, Luhya leaders assure Gideon
"The only way even a son of a pastoralist will be president is through this amendment. The Constitution does not belong to (National Assembly Majority Leader Aden) Duale and if Kenyans decide to change it, they will," Kamket said. Duale had earlier said such amendments cannot be passed, adding that a referendum would be required and that would be too expensive. "No one should tell you (Moi) otherwise. If you are determined to be president then we will all rally behind you," Lesuuda said, Deputy President William Ruto is expected to run for the top seat in 2022 and he hopes to get support from the Mount Kenya region, following an agreement he had with Kenyatta in 2013. But with Moi eyeing the same seat, Ruto's Kalenjin support may prove elusive. Former Eldama Ravine MP Musa Sirma has said they will ask the Kalenjin community to support Moi and not Ruto.
SEE ALSO: Kanu now goes digital to register more members