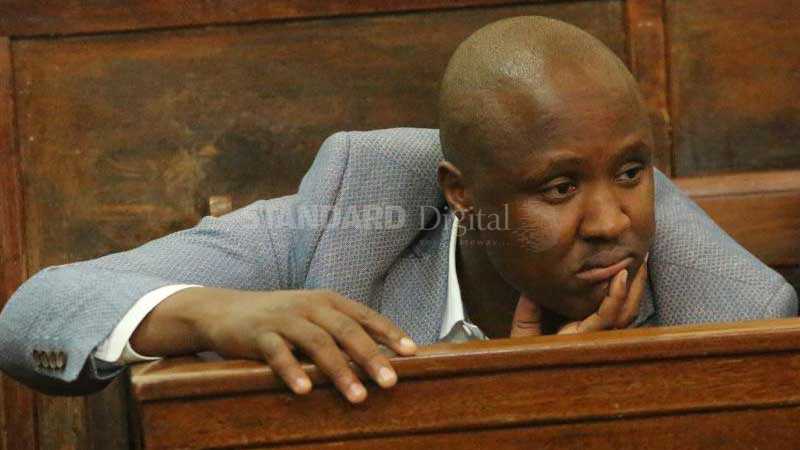 A number of Rift Valley politicians have paid a big price for not supporting the government of the day. Most of them were shunned and sent to political Siberia.
Jean Marie Seroney, William Murgor, William Saina, Chelagat Mutai, Joseph Lotodo, Kipruto arap Kirwa, Kipkalya Kones and Isaac Ruto share something in common.
Besides being sons and daughters from the Rift Valley, they all attempted to go against the powers that be; and were systematically isolated and consigned to political oblivion.
Although a few survived the isolation and regained political control, a number who defied former President Daniel Moi never recovered during his 24-year rule.
Wishes of Jubilee
Events of the past few weeks may seem familiar to those keenly following political events in this region.
Two weeks ago, the High Court in Eldoret nullified Alfred Keter's election as Nandi Hills MP, citing poll malpractices.
Keter has been facing tribulations since his ouster as National Assembly Labour Committee chairman, following the directive of President Uhuru Kenyatta for ostensibly going against the wishes of Jubilee Party. Days after his eviction from the committee's leadership, Keter was arrested, alongside two other men, when they went to push for payment of Treasury Bills worth Sh633 million. Their case is spending in court.
Political observers say the fate of Keter and a host of leaders who appear to be antagonising top Jubilee leadership seems to be sealed. According to university lecturer Philip Chebunet, Rift Valleypolitics have been unique.
"There is a tendency of loyalty and recognising one centre of political power. There is little room for a second centre of power in the region and being innovative does not help much on this part of the country," Dr Chebunet says.
Keter himself seems to acknowledge this when he says the Jubilee government is keen on silencing its critics to ensure they toe the line.
He says Deputy President William Ruto wants him out of the way as leases for tea estates in Nandi Hills expire.
"This is a big plot. They want me out to grab land. They kicked me out of the Labour Committee because I was going to expose their shenanigans around the sugar sector," he says.
High Court judge Kanyi Kimondo, who nullified Keter's election, also declared that his Marakwet East counterpart Kangogo Bowen was not validly elected.
Bowen had also fallen out with the Jubilee leadership over the National Assembly committee leadership saga, when he was replaced as the vice chair of the Environment and Natural Resources Committee.
No one knows better of political machinations in Rift Valley than former Cabinet minister Franklin Bett.
Bett, who served in Presidents Moi's and Kibaki's regimes at different levels, says some of the leaders appear to have rubbed the powers that be the wrong way and have fallen out of their favour.
"Since when former President Moi was Jomo Kenyatta's Vice President, a number of politicians from this region paid a big price for not supporting the government of the day," says Bett.
He recalls that most of them were shunned by the establishment and sent to political oblivion, never to make it again in their careers.
They lost their political seats through electoral petitions, and accusations of fraud, tax evasion and incitement.
The list of such politicians is long and is likely to grow as 2022 presidential succession politics escalates.
Jailed for incitement
Chelagat Mutai, for instance, joined politics in 1973 when she was only 24 and fresh from college.
She was elected Eldoret North MP after William Saina, her uncle, was jailed for incitement.
Saina had mobilised locals in Turbo to uproot trees planted by the East African Tanning Ltd in the area, claiming the land was theirs.
It did not take long before Mutai ran into problems with the government because in 1976, she mobilised residents of Ziwa in her constituency to occupy a sisal plantation owned by an Asian.
She was arrested and charged with incitement and, on conviction, jailed for two years.
After she was released, she again successfully vied for the same seat in 1979 but did not complete five years because she flew to Tanzania as the government was pursuing politicians and individuals who were critical to it.
Jean Marie Seroney, who at one time in Parliament concurred with fiery politician Martin Shikuku that Kanu was dead, ran into problems with the government due to his opposition to entry of non-Kalenjins, especially the Kikuyu, in formerly White Highlands of Rift Valley.
After subsequent arrests and detention, in 1979, he remained in the cold when Henry Kosgey was controversially elected as Tindiret MP in a general election. The late Francis Lotodo, former Kapenguria MP and a minister in President Moi's government, was in 1983 jailed for promoting war like activities in West Pokot after he fell from grace to grass.
In 1988 during the infamous mlolongo (queuing) general election, many politicians whose support for Kanu was suspect or lukewarm, including Kosgey and Justus ole Tipis, then a powerful Internal Security Minister, were allegedly rigged out.
Fast forward to 2018, the Jubilee leadership seems to be following in the old script.
Keter, Bowen and Moiben MP Silas Tiren, who was also kicked from a parliamentary committee leadership, seem to have ruffled feathers.
Former Bomet Governor Isaac Ruto fell out with the DP before the last general electio. He joined the National Super Alliance (NASA), but eventually lost his seat to Joyce Laboso.