State declares National Resistance Movement a criminal group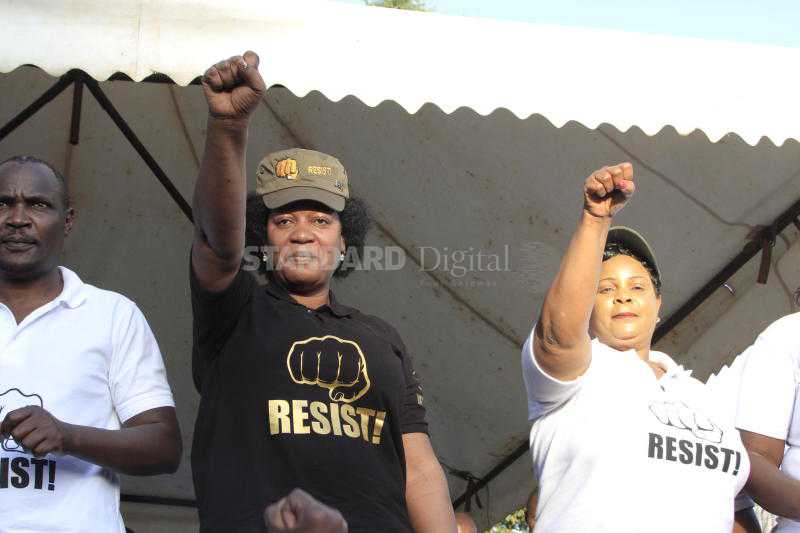 Opposition's National Resistance Movement (NRM) has now been categiorised as a criminal group.
Interior Cabinet Secretary Fred Matiang'i yesterday outlawed the new Opposition outfit through a gazette notice.
The notice came out barely an hour after the National Super Alliance (NASA) swore in the coalition's principal Raila Odinga as the 'People's President'.
In the gazette notice dated January 30, Matiang'i said he was exercising his powers as per Section 22 Prevention of Organised Crimes Act, 2010.
"…the Cabinet secretary, Ministry of Interior and Co-ordination of National Government declares National Resistance Movement (NRM) to be organised criminal group for the purpose of the Act," read the gazette notice dated January 30, 2018 and signed by the CS.
Through this gazette notice, the authorities now have the powers to arrest and prosecute all members allied to or belong to NRM according to the law.
The Act provides for a fine of Sh500,000 or a jail term of 10 years or both for such individuals.
In 2010, the Interior ministry outlawed some 33 criminal gangs which included terror group Al Shabaab.
Others were 42 Brothers, Jeshi la Embakasi, Jeshi la Mzee and Jeshi la King'ole.
According to Section 22 on Prevention of Organised Crimes, an organised criminal group means a structured group of three or more persons existing for a period of time and acting in concert with the aim of committing one or more serious crimes.
The Act described a structured group as that one which does not have defined roles for its members.
Serious crimes
An organised criminal group, according to the Act, is also one that commits one or more serious crimes in order to obtain directly or indirectly, financial or other material benefit or advantages for the criminal group or its members.
The Act also outlaws administering of oaths where a person who is present and consents to administering of any oath or engagement in the nature of an oath purporting to bind the person who takes it, belongs to an organised criminal group or engage in an organised criminal activity.
Interior ministry's spokesperson Mwenda Njoka confirmed that the gazette notice, which was circulating on social media, was genuine.