Raila Odinga 'sworn-in' as Kalonzo Musyoka misses event
After days of anxiety and a postponement on December 12, 2017, Raila Odinga has finally taken an 'oath' as the President of the Republic of Kenya.
Holding a green Bible to his right arm and sandwiched by his former aide Miguna Miguna and Siaya Senator James Orengo, Raila recited his 'oath of office' before thousands of NASA supporters at Uhuru Park, Nairobi.
"I Raila Amolo Odinga in full realisation of the high calling to assume the office of the people's president of the Republic of Kenya, do swear that I will be faithful and bear true allegiance to the people and the Republic of Kenya; that I will preserve, protect and defend the Constitution of Kenya, as by law established, and all other laws of the Republic as adopted by the people of Kenya; that I will protect and uphold sovereignty, integrity and dignity of the people of Kenya. So help me God." he carefully said.
However, his deputy Kalonzo Musyoka was conspicuously missing from the late 2 pm ceremony.
The controversial 90-word long oath was administered by Ruaraka Member of Parliament TJ Kajwang and former Raila aide Miguna Miguna.
"Kalonzo is still with us, he will be sworn in later due to reasons that you will be informed on a later day," Raila explained.
The 'swearing-in' which the government has maintained is unconstitutional now leaves the supporters of the opposition outfit with questions of what follows next.
In an exclusive interview with KTN News, Raila Odinga had intimated that NASA's next course of action will be known after the 'swearing in' ceremony.
"The function is on. There is no doubt about that. Hold your horses. After the swearing in you will be told what will happen going forward," he maintained.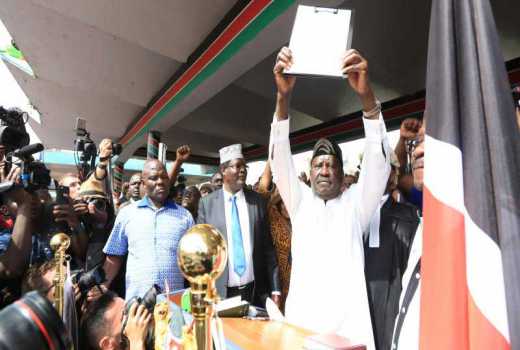 Raila fails to give a way forward
However, Raila did not give a way forward after he took the 'oath'. He only thanked his ecstatic supporters for coming saying the day signalled the start of a liberation against an alleged regime of dictatorship.
"Today is the first step in doing away with election autocracy in our country and establishing proper democracy in our country. I thank the people of Kenya for their courage, patience and fortitude that you have shown the rest of the world," he said.
The veteran politician anti-climaxed his speech with a promise to announce the rest to his supporters in due course.
Raila has since changed his Twitter bio to read, 'President of the Republic of Kenya' from the leader of NASA.
Raila finally sworn-in, Kalonzo skips event
<p>National Super Alliance (NASA) leader Raila Odinga has finally been sworn in at Uhuru Park on January 30 2018 as the People not the Rebulic of Kenya</p><p>Raila Odinga said that Wiper leader Kalonzo Musyoka who was supposed to be sworn in as the People's Deputy President of Kenya was not at the venue but was with them in spirit