Raila swearing in plans still on, says Ndii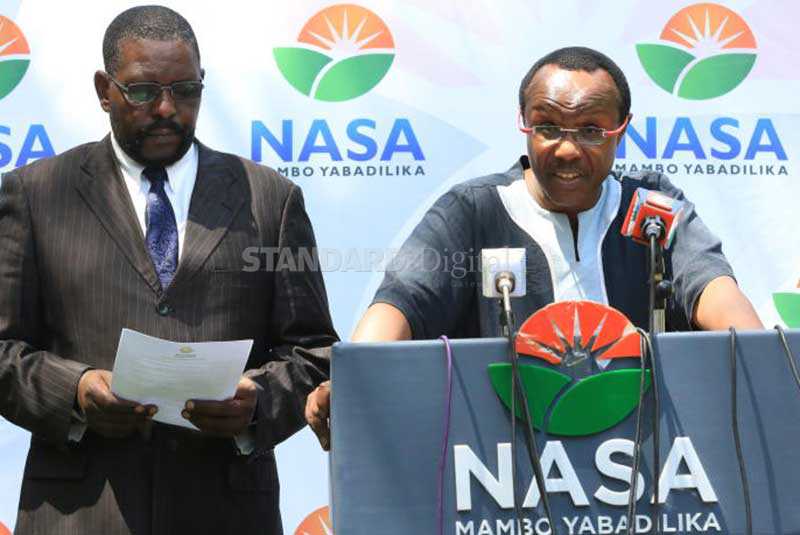 The planned swearing-in of Raila Odinga and Kalonzo Musyoka as the people's president and deputy will go on at Uhuru Park despite Nairobi County closing the venue for renovations.
People's Assembly Organising Committee led by David Ndii also want President Uhuru Kenyatta to admit that the October 26, 2017 election was a sham and should that happen, they will consider suspending the oath plan.
"If Uhuru admits the October election was a sham, we might consider having a conversation to see whether it is worth suspending the swearing-in. But that admission has to be significant and agree to repudiate the election and illegitimate presidency," said Mr Ndii yesterday.
Ndii explained that they will proceed with the People's Assembly process and engage with Kenyans who are convinced that electoral justice is necessary for a stable, fair, prosperous and stable nation.
During a press briefing at the Okoa Kenya offices yesterday, Ndii was categorical that they are leading an open, inclusive, transformational, people driven political dialogue that is determined to ensure every vote counts in Kenya.
"We reiterate that the swearing in is a reclamation of the NASA presidential election victory of August 8, 2017 which the Supreme Court of Kenya validated by annulling the Uhuru Kenyatta win. Jubilee then carried out a sham election and a coup on the people of Kenya on October 26th and is now exercising an illegitimate presidency," said Ndii.
And to have the day a successful, the National Super Alliance (NASA) has planned a pre-inauguration activities by convening Luo Nyanza People's Consultative Forum to be hosted by Homa Bay County tomorrow.
According to Ndii, the Luo Nyanza Assembly as with all others, will deliberate on how to remake this nation so that it works for all citizens.
"We are convinced that this country has no future if we do not agree on how to share power and exercise it responsibly; how to share opportunities equitably and above all how to co-exist peacefully as distinct communities brought together by the cruel fate of colonialism. We shall hold four more assemblies in the coming weeks and have held the People's National Convention by end of February," said Ndii.
He added: "We wish to salute the Luo Nyanza people for consistently and resolutely standing up against electoral injustice throughout the 50 years of Kenya's independence. It is still fresh in our minds how Luo Nyanza was profiled, brutalized and innocent lives lost for simply exercising their right to reject dictatorship."
He said that the Nyanza People's Assembly will further officially launch nationwide pre-inauguration celebrations as NASA prepare to converge at Uhuru Park to delegate the sovereign will to those leaders they believe were elected on August 8.
Asked who will swear in Raila and Kalonzo, Ndii simply said: "Those who wish to see should come on that day and witness the process. It will be in broad day light and all Kenyans are welcomed to come and witness."
NASA has so far convened People's Assemblies with the Coastal People, the Western or Mulembe and Ukambani nations each of which have drawn up locally contextual resolutions in preparation for the national convention.
Ndii further explained that the culmination of the pre-inauguration festivities will be at Uhuru Park as more than two thirds of the country which stands with NASA, convenes to witness the most significant event citizens have ever organized for themselves to secure their interests, rights and dignity as a people.