Now Mungatana unveils team to fight incumbent governor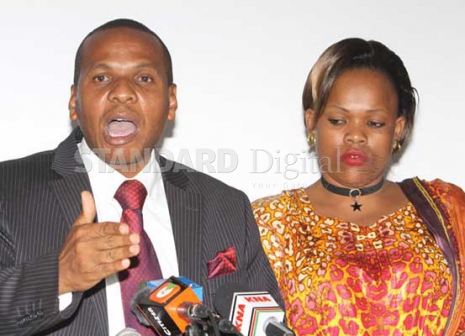 A former assistant minister has pledged to focus his energy on fixing the county's ailing economy if he is elected governor on August 8.
Danson Mungatana, who is vying for the seat on a Kenya Patriots Party (KPP) ticket, said his administration would work to revamp the agriculture, livestock, and fisheries sectors as well as small business enterprises.
Speaking after unveiling his campaign line-up at Fanjua village in Kinakomba ward at the weekend, Mr Mungatana accused incumbent governor, Hussein Dado, of mismanaging the region's economy.
Mungatana's line-up, dubbed Chanamarowasom Alliance 2017, includes Hassan Barhe (running mate) Maur Bwanamaka from Chama Cha Uzalendo (senator), and KPP's Rukia Mohamed (woman representative)
"We, the communities of Tana River, who include the Pokomo, the Wardei, and the Somali, have decided to come together from all the corners of Tana River to form this line-up for the interest of our people," Mungatana declared.
The team received the blessings of a section of the Pokomo Council of Elders.
Mungatana claimed that one of his competitors was enlisting residents' support under the pretext of distributing relief food.
Apart from Mungatana, Governor Dado, who this year ditched Wiper for Jubilee Party, faces Major (Rtd) Samuel Godhana of Orange Democratic Movement (ODM) and County Assembly Speaker Nuh Abdi of Wiper in the August 8 race.
The candidates have been piling pressure on Dado, citing numerous scandals that were before the Senate.
"We want to bring integrity in governance," said Mungatana.
But the governor has defended his record, saying he took over when the county was torn apart by ethnic clashes in 2012 and 2013 and lacked skilled staff to implement programmes.
The Tana delta clashes between the Orma and the Pokomo claimed more than 100 lives, prompting the county to go to the 2013 elections under a dusk-to-dawn curfew.
According to the county government spokesman, Galgalo Fayo, the governor's main achievement was the creation of a cohesion department to bring together the warring farming and pastoralist communities.
The governor also cites construction of 1,000 kilometres of murram road and tarmacking of 15 kilometres in Hola town, as well as the sinking of 20 boreholes, the employing 305 Early Childhood Development Education (ECDE) teachers, and increasing the number of doctors in local hospitals from one to 12.
"The county also spent Sh400 million during the recent drought to provide water to thousands of livestock to prevent them from dying," said Mr Fayo.