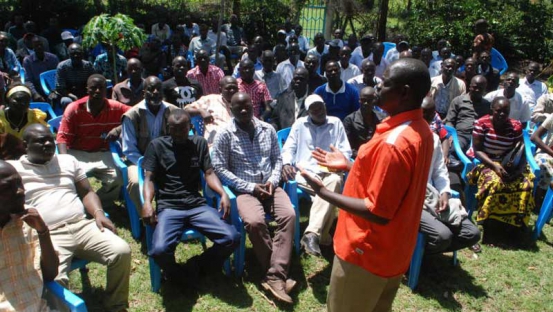 There were claims some ODM polling officials were holed up in some venues in a well-orchestrated rigging scheme
Two primary school teachers sustained serious injuries after a group of youth stormed a venue where ODM officials were undergoing training ahead of the Monday primaries.
The two — Valentine Omollo, a head teacher at Rare Primary School and Beatrice Onduru of St Jonathan School — were training officials at Rakwaro Seminary ahead of the Monday primaries before armed youth struck and started beating up participants.
Police said they had summoned two senior leaders from Rongo over the Thursday incident.
Read More
Saturday Standard caught up with Onduru at Ladorpharma Hospital in Rongo town where she recounted the incident. She said she had been called for a meeting to train the officials on how to conduct the nominations by Ms Mary Ogodo, who is the constituency election officer.
"While headed there, I met a young man who told me we will be beaten in that meeting and I rubbished him off, I wish I had turned and gone back home," she said.
Condemned incident
Onduru said the youth came in a pick-up, stormed the meeting and started beating people.
"One of them kicked me several times all over the body especially on my ribs. I am now experiencing excruciating pain," she said.
Mr Omollo was referred to Kisii Level Five Hospital. Several others sustained injuries of varying degrees.
The priest in charge of the seminary Father Richard Odhiambo condemned the incident.
Rongo OCPD Kisaka Muganda said those involved would be arrested and prosecuted.
Area MP Dalmas Otieno, who was at the scene, said it was 'wananchi' who invaded the seminary after learning that some people masquerading as ODM nomination officials were being trained on how to rig. In Homa Bay, several people were injured after a fight broke out at a hotel following claims a Senator and an MP from the neighbouring Migori were marking 'illegal' ballot papers.
Trouble started after nominated MP, Millie Odhiambo and her supporters stormed the hotel to protest the rigging plans. In Suba, armed youth destroyed houses belonging to a member of the Homa Bay County Executive Committee, Consolata Yambo over claims a group of people were involved in ballot stuffing at the home. Stakes are high in Suba where ODM national chairman John Mbadi is fighting it out with former Raila Odinga aide Caroli Omondi.