How politicians are scheming to succeed President Uhuru Kenyatta and Raila Odinga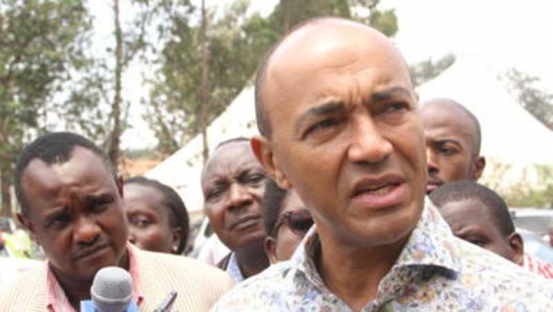 NAIROBI: The political undercurrents being experienced in both Jubilee Party and the National Super Alliance (NASA) ahead of the August elections are linked to succession of President Uhuru Kenyatta and ODM leader Raila Odinga, analysts argue.
The delay by NASA to name its presidential candidate, their disagreement on joint nominations, the entry of Kanu Chairman Gideon Moi in JP politics and fights over Mombasa and Nairobi governor positions on both sides of the divide are parts of the succession politics.
According to Prof Rocha Chimera of Pwani University, the politics on who will inherit President Kenyatta's Mt Kenya voting bloc when his term expires in 2022 and possibility of Raila serving one term if he wins the presidency or retiring from politics if he loses, will shape political events during this year's General Election.
"Deputy President William Ruto is supporting President Kenyatta's re-election because he expects his voting bloc to support him in 2022 and in NASA, Kalonzo Musyoka and Musalia Mudavadi anticipate to inherit Raila's political constituency," says Prof Chimera.
He says politicians in JP and NASA with an eye on the presidency want to ensure the political decisions they make now will guarantee them success in 2022, hence the ensuing dog-fights. Prof Amukowa Anangwe of Dodoma University says while some politicians may be focusing on a post-Uhuru political dispensation, their plans are likely to flop due to changing political dynamics.
"Kenyan electoral politics is dynamic, and five years down the road may be difficult to accurately predict how things will shape up," says Anangwe.
He says the right strategy for presidential aspirants in 2022 is to ensure those they support this year succeed. "If their candidates flop, theirs may be a false start that may disorganise the constituency they would hope to inherit. In any case, they should also remain open-minded about the future twists and turns of succession politics, and take cognizance of the fact that other potential candidates in their own parties may also emerge to challenge them," he says.
Prof Anangwe says the President may use his impending succession to lure Opposition politicians to his side because defections are the hallmark of Kenyan electoral politics.
Take a quick survey and help us improve our website!
Take a survey
"This could be a game changer in his re-election bid, especially if it occasions the demise of NASA," he concludes.
However, according to Prof Jonah Kindiki of Moi University, the current political re-alignments are only viable between now and August 8 polls.
"I am seeing a major political shake-up after the August General Election depending on who wins the presidency, as new political blocs are going to revolve around NASA and Jubilee politicaldivides," says Kindiki.
Political formations
He says Rift Valley will play a key role in 2022 presidential race political formations as whoever will be interested in the presidency will have to court the electorate from the region.
"If Uhuru wins the presidency, I do not see Peter Kenneth making an impact in 2022 because it will be very hard to sell a candidate from Central Kenya after the Kibaki and Uhuru presidency. But he will likely be a key player in the emerging political re-alignments," he says.
Prof Kindiki adds that the 2022 presidential race will coalesce around Jubilee-NASA political formations, with presidential aspirants from Rift Valley, Western and Lower Eastern leading the way.
A lecturer at Kabianga University, Mr Herbert Kerre, says the misplaced contention in NASA over who is to be the flag-bearer is uncalled for as by leaving the alliance, Kalonzo would be committing political suicide.
"Mr Kalonzo is a rehabilitated politician after his 2007 miscalculations that left him with the watermelon tag. He will most likely rip a lot of political goodwill by sticking with NASA than moving out," he says.
Mr Kerre says the entry of Kenneth and Moi in Jubilee politics has intensified the silent power struggles going on in Jubilee as they are being viewed with suspicion by DP Ruto.
"However, Mr Kenneth presents a very interesting experiment to Nairobi city politics as we are likely to see the political supremacy between Mt Kenya and Western Kenya unfold," he says.
2022 politics
Prof Jacob Midiwo of the University of Nairobi says Mombasa Governor Hassan Joho has positioned himself strategically to inherit Raila's support base because of displaying signs of being a fearless and brave leader, credentials that are exciting to the ODM leader's supporters.
He says ANC leader Musalia Mudavadi also stands a great chance of inheriting Raila's support base as he has managed to sanitise himself from the Moi-Kenyatta influence.
Prof Midiwo says the stiff competition among Jubilee aspirants for the governor's seat in Nairobi is a strategy towards the 2022 presidential race.
"President Kenyatta's supporters are pretending they will support Mr Ruto in 2022, but they are shoring up Mr Kenneth's candidature for Nairobi governor with an eye on 2022," he says.
To fight drought, involve communities
According to the latest information from the Meteorological Department, rainfall will be poorly distributed in April, May and June, and this will have a serious impact on agriculture