NASA team explores ways to pick candidate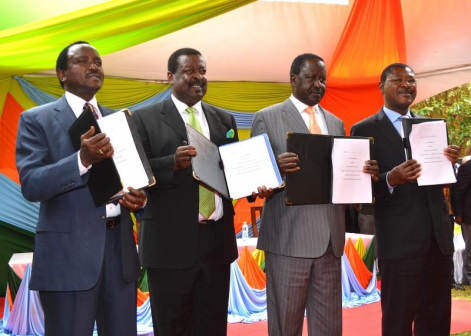 A top organ of the National Super Alliance (NASA) is set to meet Saturday and pick the Opposition's presidential flag bearer.
The National Coordinating Committee (NCC), which is charged with the responsibility of crafting ways to pick the presidential flag bearer, is expected to finalise its mandate by giving the Opposition one candidate who will compete with President Uhuru Kenyatta.
Sources within the NCC and the five-member technical committee intimated to The Standard that they had simulated various scenarios to be used to pick their candidate. The modes under consideration include elimination method.
According to the sources, performance of Raila Odinga, Musalia Mudavadi, Kalonzo Musyoka and Moses Wetang'ula in past general elections may be used to determine whether each has a solid support base in their respective areas and around the country.
Once that is done, the team will then zero in on who among the co-principals has what it takes if given the ticket to eat into Jubilee strongholds come election day.
The team is also expected to look at a scenario by asking who among the principals is unlikely to get support outside his own political turf without the support of the other principals.
And apart from that, the team will also weigh the presidential hopefuls to determine who among them would not provoke a backlash from Jubilee strongholds that would make "even the dead rise up to vote".
According to the sources, the other question would be who among the four candidates is more likely to get votes from a bloc and if any of them is not picked, who is likely to draw voter apathy from his stronghold.
NCC is now scheduled to come up with a power-sharing formula but which must conform with the Constitution.
The sources revealed that the positions eligible for power-sharing are Executive appointments, Legislative offices, national government executive appointments and leadership positions in the National Assembly and Senate.
Constitutional and independent offices will not be subjected to power sharing. According to the coalition agreement, the four parties will share power based on founder member status, portfolio balance and equity and performance.
ANC Deputy Party Leader and former Agriculture Minister Kipruto arap Kirwa said when the team met on Monday, they agreed that the power-sharing formula can only be based on the current legal provisions.
This means NASA will have to produce a presidential candidate and the running-mate as well as the composition of cabinet slots as provided in the Constitution. Kirwa, a member of NCC, said the team would finish deliberations on the presidential candidate by next week.
CRICKET: ICC slammed over India bust-up
Cricket's governing body was accused yesterday of allowing the series between India and Australia to descend into anarchy after Steve Smith and Virat Kohli escaped punishment over the arch-rivals' latest bust-up.