MP's defection, voters' stubborn streak leaves ODM guessing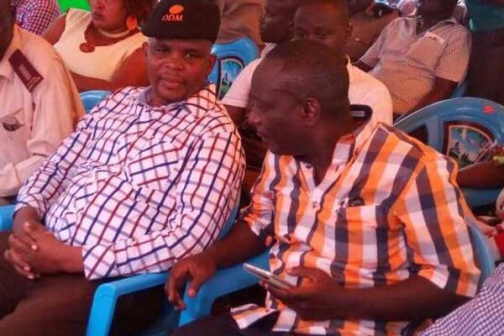 The defection of Ugenya MP David Ochieng from Orange Democratic Movement (ODM) to the Movement for Democracy and Growth (MDG) could pose a serious threat to his old party if voters in the region go against the formbook and vote for a candidate from a smaller political party.
The region has previously demonstrated a stubborn independence and voted for leaders outside Raila Odinga's ODM when they have felt their choice of candidate was being unfairly pilloried within the Orange party.
Already Ochieng has complained that he was hounded out of ODM by those who claim he is a Jubilee mole — claims that forced him to leave the Orange party, by far the most dominant political party in the region.
While whoever clinches the ODM party ticket will no doubt have an upper hand given that Nyanza is an ODM zone and Siaya is party leader Raila's home county, it is the rebellious nature of the Ugenya people that gives Ochieng hope.
In the 2013 race for the Siaya governorship, a fierce contest ensued between Governor Cornel Rasanga and William Oduol. Rasanga beat Oduol, who had decamped from ODM after losing during the nominations.
Oduol would later contest the results in court, paving the way for a by-election. Although he lost again, the point had been made. Siaya people had shown they could vote for someone outside Raila's party.
Perhaps feeling the heat, ODM aspirants in Siaya are already engaged in talks to minimise the potential fallout after the party primaries slated for April. Businessman Chris Karan and outgoing Standard editor David Ohito say they are in preliminary discussions over who between them should fly the ODM flag.
Also roped in the discussions is Rosemary Omondi, who also contested in 2013 and was placed third behind Ochieng and Karan. Mr Ohito says they are determined to ensure that Ugenya has peaceful nominations. "We want to take Ugenya to the next level, and that is why we have started these talks. Poverty levels in Ugenya have risen in the last four years despite devolution and colossal amounts allocated to the CDF," Ohito says.
Ensuring the party will be speaking in one voice will be easier said than done because already Ugenya parliamentary aspirant Francis Oloo has dismissed the talks.
Ugenya Constituency is made up of Ukwala and Sihay divisions, and Ochieng and Oloo are from Sihay Division, while Ohito and Karan are from Ukwala.
In the 2013 elections, Karan and Omondi shared the Ukwala vote, while Ochieng got most of his votes in his Sihay Division.
Ochieng still believes he has a chance despite the damaging claims of links to Jubilee, and the legislator insists he will support Raila for president, quite convinced that the ODM leader will secure the joint Opposition's ticket to run.
"It will be remembered that it was during my time as MP that Ugenya got its first teachers training college and medical training college," Ochieng said.
Orange party insiders says Ochieng's refusal to join in anti-IEBC demos was his undoing at the time the Coalition for Reforms of Democracy (CORD) was pushing for the removal of the electoral body's commissioners on the grounds that they were pro-establishment. The fact that the commissioners of Independent Boundaries and Electoral Commission were eventually removed on these grounds has not helped Ochieng's cause even though he maintains he took part in a number of party activities, including ODM's Okoa Kenya's unsuccessful campaigns to amend the Constitution through a referendum.