Kalonzo Musyoka faces resistance as Kibwana refuses to fold party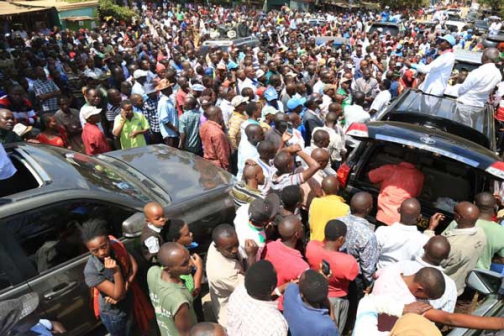 Makueni Governor Kivutha Kibwana has rejected calls to fold his Muungano Party and join Wiper Democratic Movement Party.
This in effect dashes efforts by Wiper Party leader Kalonzo Musyoka to persuade the governor to join his team and embolden his presidential bid within the Coalition for Reforms and Democracy (CORD) in which Wiper is a corporate member.
This week Prof Kibwana said he would stick to Muungano Party and face off with a Wiper candidate at the ballot.
The strong-minded and fiercely independent governor said the unwarranted pressure to join Wiper was unhealthy, and insisting that he would not decamp under duress.
Kibwana's message was amplified in a series of rallies in Makueni County last week even as he exhorted residents to register as voters in the ongoing mass voter enlisting exercise.
Kalonzo has been unrelenting that Kibwana should ditch Muungano and join Wiper to increase the number of seats by members of his party in Makueni County.
Kalonzo also wants the Kamba community to speak with one voice by coalescing around the Wiper Party, the dominant political entity in Ukambani.
"As a community we must now speak with one voice," Kalonzo said, a sentiment that was shared by Kibwana who said the Kamba need to approach the coming elections as a united force.
The desire to forge unity has contributed to some of the pressure being exerted on Kibwana to decamp. However, this pressure appears to have boomeranged when Kalonzo and Kibwana, who were riding in the same car, got to Wote town, and the Wiper leader insisted that the Makueni boss should decamp without delay.
Lost his cool
Kalonzo really worked up the crowd that Kibwana found it difficult to respond as a section of the gathering chanted Wiper slogans. Three times, Kalonzo attempted to calm the crowd and give Kibwana a chance to respond but to no avail.
When he finally handed over the microphone to the Wiper Party leader, Kibwana had evidently lost his cool but not before he took a dig at Kalonzo by telling him that he had not seen a candidate from Wiper who could dislodge him from office.
The leaders then left for the next two rallies in Kathonzweni and Makindu, and as the convoy snaked its way out of Wote town, Kibwana uncharacteristically disembarked from Kalonzo's car and boarded his official vehicle.
Events then began to unravel after that and at Makindu, in Makueni Constituency, supporters exchanged blows as Kalonzo attempted to introduce his team which included Senator Mutula Kilonzo Jnr, Wiper Deputy Party leader Farah Maalim and MP Jessica Mbalu. The crowd jeered demanding to be addressed by governor Kibwana.
In his speech Kibwana cautioned Wiper leaders whom he accused of badgering friendly politicians with their zeal and "politics of coercion and intimidation."
Kibwana had wanted to have talks initiated to discuss their engagement, but complained that unnecessary pressure had been mounted to have him leave Muungano.
"If that is their style, I better stick with Muungano Party and if I lose at the ballot, I will retire honourably," Kibwana said.
Prior to the Makueni rallies discussions were held between the Muungano Party and members of the Wiper leadership about how to craft a winning and working formula of cooperation.
Senator Mutula Kilonzo Jnr acknowledged this and said the move to heap pressure on Kibwana to decamp to Wiper was not timely. "I advised the leadership to avoid the subject as it would complicate the voter registration drive," Mutula Jnr said.
Nevertheless, the Wiper Party vice chairman said the party must field a candidate for the Makueni gubernatorial race and all other positions in Makueni "or face extinction."
He also dismissed claims that he was being groomed to run against Kibwana.
"I am not persuaded, inspired or motivated to contest as governor of Makueni County currently," the senator told The Standard on Saturday.
Mutula Jnr said the community, through its leaders, had failed to rally the people through a common political agenda and regretted that this had resulted to voter apathy during the final mass voter registration exercises, now entering its penultimate week.