You can't bet on opposition to grow the country, Uhuru tells Jubilee supporters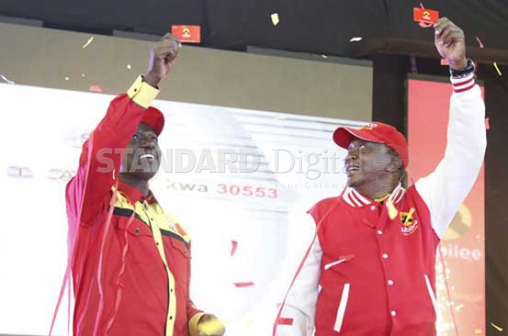 President Uhuru Kenyatta yesterday launched a scathing attack on the Opposition, terming it a "confused group of people" unfairly disrupting his government's development agenda.
President Kenyatta, who had just landed from India then driven straight to Kasarani for the launch of Jubilee smart membership card, accused CORD of consistently and maliciously refusing to appreciate the progress achieved by the Jubilee government.
For more than 10 minutes, President Kenyatta went on the offensive, enumerating his track record and telling off the Opposition. He dismissed the Opposition as a group of "confused leaders without a vision for Kenya".
He would pose from time to time to say "washindwe" in an apparent reference to the Opposition.
"When we formed government in 2013, there were only 34 dialysis machines in this country, today we have 74. There were only 37 ICU beds, today we have 60. We had no X-ray digital machine, today we have 94 across the country. I can go on and on. Yet there are people in this country who have eyes but can't see, ears but can't hear. All they can say is that we have done nothing. Washindwe," he said.
Counter offensive
"They were in government, some for more than 20 years, yet they can't show what they did for Kenyans. That is why they can't see what were are doing. Washindwe! Instead of engaging us on a specific agenda, they resort to insults, preaching enmity and disunity instead of discussing ways to improve the lives of Kenyans. We shall not be distracted. When they insult us we shall tell them that we've forgiven them," said the President.
Shortly before Uhuru took to the podium, Deputy President William Ruto had set the tone for the President's counter-offensive against the Opposition. Ruto received a standing ovation from the aspirants as he elaborated factors that he believes would make this year's presidential elections a walk in the park for Jubilee.
He listed the absence of ICC cases against both he and the President and the fact that Jubilee coalition had merged into one party.
He noted that Jubilee would this time face voters, not with a list of promises, but with a track record of its achievements. He said they would be facing a "clueless" competitor led by a former Prime Minister and a former Vice President who have nothing to show for their time in government. It was his fourth point, that the Opposition was clueless, that earned him a standing ovation, with the aspirants demanding that he repeats it a second time.
"Last time, we faced a formidable competitor who had the benefit of a sitting Vice President and Prime Minister who controlled three quarters of government. This time, we are facing a team of clueless, confused, plan less, leaderless and disorganised opposition," said Ruto.
National Assembly Leader of Majority Aden Duale, who was coordinating the meeting before the arrival of President Kenyatta, dismissed the Opposition as a disjointed lot.
"Mr President when you were away, a meeting was held at Bomas by our competitors. We waited to hear how they would offer an alternative agenda for the country and who would be the driver of that agenda. Instead, Mr President, they decided to discuss Duale, the Deputy President and you," said Duale.
Uhuru said his visit to India had resulted in many gains, including an agreement to establish a fully equipped hospital in Kenya by the Indian government. This move, he said, would save Kenyans the cost of travelling to India in search of specialised treatment.
President Kenyatta urged aspirants to work together to ensure maximum voter registration, saying: "Only unity will get us where we want to go. What gain do you get when you fight amongst yourself and fail us all," he said
The meeting, which was dominated by calls for an aggressive voter registration drive, was attended incumbent and aspiring candidates for various positions.