Mutahi Ngunyi: 2017 is not a done deal yet for Uhuru, Ruto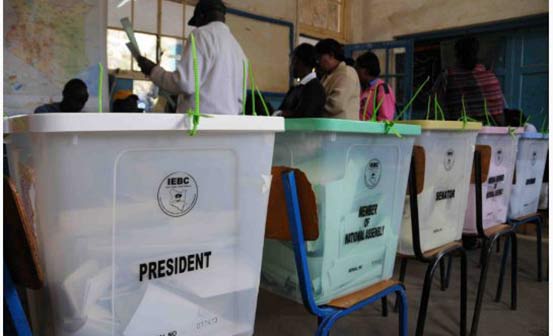 Raila will be in government come the General Election. Not as president, but as a 'forced' Prime Minister. And this is his bare minimum. If he cannot become 'Boss', he must become Prime Minister at zero option, argues Prof Mutahi Ngunyi
Tyranny of Numbers was a generous gift from the gods. It was not deserved; it was not earned. It was just a 'pain killer' given by the gods to ease the agony of 2007 war. But then we assumed it was forever. We assumed that 2017 is automatic for Jubilee, and 2022 is a forgone conclusion for William Ruto. Zero. These are naive delusions. And because I introduced 'Tyranny of Numbers' to our politics, I will speak truthfully as a Prisoner of Scientific Conscience. The 'Tyranny Magic' is dead. It is Kaput! It will not work in 2017. End of Discussion!
Now I will make another submission. For 'Tyranny' to work, there had to be an 'Object of Aggression'. And this object was the International Criminal Court (ICC). GEMA and Kalenjin nations were mobilised to aggress this object.
The Jubilee vote was therefore more of an 'anti-ICC protest' than a 'pro-Uhuru endorsement'. If ICC gave Jubilee supporters the passion to vote, removal of ICC has left their passion as 'dry as a biscuit'. In sum, I doubt that voters from the GEMA and the Kalenjin Nation will wake up at dawn, ferry the sick to polling stations in wheelbarrows, in order to protect the Uhuru presidency. There is zero passion; zero excitement!
But if Uhuru supporters are as 'dry as a biscuit', Raila will attract more excitement than votes; more passion than action. And this is how he WILL NOT become president. However, the record must reflect that Raila will be in government come the General Election. Not as president, but as a 'forced' Prime Minister. And this is his bare minimum. If he cannot become 'Boss', he must become Prime Minister at zero option. And he will do this by forcing a Coalition Government.
He has done it before and in harder circumstances under Kibaki. Forcing this coalition on Jubilee is therefore a walk in the park. Early claims of rigging are meant to prepare the nation for this eventuality. In fact, Raila's opposition to the electoral law is just for 'nuisance value'. He does not care about the law. He is only interested in developing an argument that supports his claims that Jubilee will rig. And so long as the public buys this claims, he has a chance of joining government as Prime Minister at zero option.
Battery of unresolved issues
But claims of rigging are not enough to make him Prime Minister if he loses. Something more dramatic must propel him into this position. A state of unrest, bordering on war, must be precipitated. Hostilities must be manufactured and escalated to a boiling point. And the call for mass action is meant to normalise and prepare us psychologically for the coming violence. In sum, the country is where we were in 2007. This means that for ten years, we buried our hostilities alive. We did not deal with the issues that took us to war. Now they are pounding hard from underneath us, where we buried them alive.
And for this I blame Uhuru Kenyatta. Although he has an impeccable development record, he did not heal our national wounds. In fact, there is no evidence that he tried. Although we are likely to re-elect him because of his development record, he will return to State House with a limp.
This is because he squandered four years of his presidency on 'brick and mortar' projects, neglecting our national fragility and broken nationhood. If he will be punished by the gods, it is because his judgment call on what was important after ICC was flawed. The punishment will be to share power with Raila at zero option. And there is nothing as annoying as sharing power with Raila as Kibaki realized!
Now I will flip the argument, with your indulgence. Although ICC remains a painful experience for both Uhuru and Ruto, it gave them 'street credibility'. In the hood, if you get arrested, then tried and finally released, you earn respect. In fact, everyone in the hood fears you because they cannot figure you out. And this is how we must treat Uhuru and Ruto. These are not ordinary people.
When we elected them, they were suspects. Then they showed up at ICC and defeated the system. Is it possible that people with such street credibility are naïve? Are they as 'soft' and 'girly' as Raila has depicted them for the last four years? I doubt it. Any politician who has been to ICC and back is to be feared. Very feared!
In my view, therefore, Uhuru, and especially Ruto, would enjoy sending Raila to The Hague. This would be sweet revenge, but would also deal with Raila once and for all. And should this strategy succeed, they will have no mercy. They will deliver Raila to ICC Prosecutor Fatou Bensouda with speed and glee. This is why, despite threats to quit ICC, we are still members. ICC is definitely a contingency plan on how to deal with Raila in 2017.
But how is Raila being set up for Bensouda? First, Uhuru bulldozes changes to the electoral law. It is obvious to him that Raila will fall for the trick and call for nation-wide mass action. This gets violent. Uhuru refuses to back down. And as the violence increases, Raila's cowardly colleagues abandon him. He is isolated as a warmonger. Then in August 2017, the election turns violent, and the prime mover of the violence is already profiled as one Raila Odinga. This profiling, rightfully or not, is what Uhuru is doing. He is profiling Raila as a warmonger and collecting credible evidence against him.
Although this hypothetical position is far-fetched, I want to re-iterate that a politician who has been to ICC and back is to be feared! If Uhuru isolates Raila as a war monger, then the idea of 'Hague Express' in 2017 is a probable option. If Kalonzo and the 'Cowardly Sisters' in CORD are quickly co-opted into government after the election, betraying Raila will not be a problem for them. And this is how the country will be stabilised as Raila faces trial at The Hague.
'Temporary President'
Now I will make my last argument. If "Tyranny of Numbers" is dead and mass action is a trap to isolate Raila as a warmonger, which is the last frontier of electoral 'mis-engineering'? Although I have little respect for Raila's 'woolly' think-tank, the ability of his operatives to 'mis-engineer' politics is impeccable. If they discover that mass action is a trap, they will precipitate a constitutional crisis in the election calendar. And I say so because our Constitution was either incompetently written, or carefully choreographed to benefit them in the event of an unresolved contest. Consider the arguments with me.
If we go to the polls on August 8 this year, the earliest the next president will be sworn in is November 14. And this is because of two reasons. One, we are most likely to have a run-off. Two, the results of the first round of voting on August 8 will be contested in the Supreme Court and the results of the run-off will also be contested.
If you add the days for these processes, as anticipated in the constitution, November 14 is the earliest we can swear in the next president. In the meantime, from August 8, Uhuru assumes the uneventful position of 'Temporary Incumbent'. What this means is that his powers are limited to non-essential operations by the constitution. For instance, he cannot fire the cabinet or change it.
If half the cabinet decides to join opposition and use their cabinet resources in support of Raila, he cannot fire them. But the biggest crisis here is that his security operations also become limited. If there is violence in 2017, whatever actions he takes will be challenged as unconstitutional just because he is 'Temporary President'.
This position of 'Temporary President' is tolerable for one hundred days between August 8 and November 14, 2017.
However, because of our playful Constitution, a run-off and a series of Supreme Court petition could cause a bigger crisis. Should the Supreme Court nullify the presidential election after the run-off, then fresh elections are called on January 2, 2018. What this translates to is six months of elections and a 'Temporary President'.
But that is not the end of the crisis. January 2, 2018 becomes the new August 8, 2017.
In other words, on January 2, 2018, the country resets its calendar and begins the electoral process afresh as though we were in August 2017. If the electoral process takes another six months from the new date, the country could get subjected to elections for one year. This is not theory; it is just a textual reading of our incompetently written constitution.
Now I return to Raila and his 'clever' operatives. If they discover that mass action is untenable, they will use this route of precipitating a constitutional crisis through the electoral calendar. This way, they will paralyse the presidency by making Uhuru a 'Temporary President' for six months to one year and forcing him to the negotiating table. With this option, Raila gets off the ICC danger, but achieves the same results. If he fails to capture the presidency, he becomes Prime Minister and his 'Cowardly Sisters' in CORD join him as ministers.
But what about Uhuru? What are his options? According to one of our Founding Fathers, the late Tom Joseph Mboya, all you need to rule this country are "...two big tribes and one small one".
Currently, we have two big tribes and no small one. And to recapture the presidency a small tribe, co-opted intact, is important for Uhuru. His best option, therefore, is to offer the position of Prime Minister to Kalonzo Musyoka before the election, or be forced to offer it to Raila after the election.
The Constitution can be amended in Parliament to accommodate this change. This is the constitutional formula that brought us peace in 2007 and if we fail to introduce it in good time, peace in 2017 will be achieved by enacting it in times of unrest. But I could also be wrong. Or Am I?