Martha Karua opens up on presidential hug that jolted race for power in Central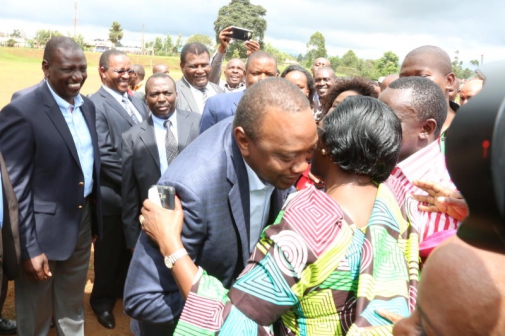 Narc-Kenya leader Martha Karua has spoken for the first time about her public display of warmth and exchange of pleasantries with President Uhuru Kenyatta.
The Iron Lady of Kirinyaga politics has had a long and bruising political battle with the President, but the incident in Kerugoya town captured on TV amid a cheering crowd, has elicited new political undertones.
The moment captured an enthusiastic President Kenyatta with arms wide open and stretching above surging multitudes and shouting "My Sister!" and Martha's equally spontaneous shout "I am right here!" caught many by surprise, herself included.
In her first interview since the much talked about presidential bear hug, Karua is coy about the display of excitement that betrayed an unexpressed sibling longing.
"One, President Uhuru has a pleasant and an outgoing public persona with warmth and genuine excitement. That is him, and it is not unusual. I had not expected the moment would turn out the way it did. I was standing in line with everyone else to receive him, but when he arrived, everyone surged forward to crowd on him. But I remained standing in my position. He was still shaking hands when he spotted me and reached out towards me," Karua told The Standard on Sunday.
Icy relations
In one short moment, as President Kenyatta bent to hug the former Justice Minister who was all smiles, 10 years of icy relations seemed to melt as the crowds cheered and women ululated in appreciation.
The former Gichugu MP and the President fought many bruising political battles in the past, winning some against him and losing some.
After making his speech outside Kerugoya Government Hospital before proceeding to Kutus, the site of the new Kirinyaga County headquarters, the President lowered his microphone behind him, and pointed at Martha with his right hand, bending a little and said in a hushed tone: "My sister, nonginya undware Murang'a" (please, my sister, you must take me to Murang'a).
Karua confirmed she had a private meeting with the President at his tent in Kangema, Murang'a County, at his request, through his private secretary Jomo Gechaga. "Our differences have never been personal, but political, and always around principles I believe in, fought for and lived by," she said.
She said up to the last day, she was still agonising whether she should have been there to welcome the President to Kirinyaga. "Then, finally, I decided, why not? He is the President of the Republic of Kenya and he is visiting my county. I might as well join by Kirinyaga Narc-K branch which had resolved to support his re-election in 2017. I used to join other leaders to receive retired President Moi when I was in opposition," she said.
On the three-finger Narc-Kenya salute against great pressure to join Jubilee Party from the crowds, she said: "I had to do it. I had to stand up against that pressure. It was important for Narc-Kenya members and aspiring candidates. If I were to succumb to that pressure, how do I later convince members and candidates to continue buying party membership?" she posed.
Karua is also awake to the fact that some leaders in Jubilee may not openly celebrate her new-found rapport with President Kenyatta.
"Political differences are not personal or permanent. I competed with President Kenyatta and (CORD leader) Raila Odinga in 2013. Uhuru took the prize. I have been working with Raila in the Opposition but now I have opted to support the President's re-election for a second term. This does not change who I am. I will never keep quiet about social justice. I will never keep quiet about human rights and corruption."
Meru Senator Kiraitu Murungi, who is one of Jubilee Party leading lights, says Karua is welcome to President Kenyatta's re-election bid.
"She adds value to our side. She is most welcome and everyone wants her on board, but she has to park her vehicle and join us on this journey. The ground has spoken and is saying you are either with us or out there on your own," he said.
But Karua said expanding the democratic space should not mean one or two big parties like Jubilee and CORD dominating the political space.
"For instance, who would have thought Kanu, of all other parties, would be playing the role it is playing today supporting the government as a minority partner at very critical times? Kenya's contemporary history supports the case for political diversity and it should be preserved and fostered, not curtailed. I have spent most of my youth fighting for multi-partyism, and I should not be the one supporting the reversal of the gains made," she added.
Uhuru succession
Mt Kenya Foundation National coordinator Mutuma Nkanata said Karua is a national political brand that will help Jubilee galvanise the vote. "CORD looked strong with Karua on their side. She brings that psychological value and President Kenyatta's war on corruption has received a much needed boost with her on his side," he said.
Nkanata added: "Being the senior most politicians in Central, Meru Senator Kiraitu and now Karua, bring stature and seniority to the table. Indeed, Karua has now been brought to the inner lane of President Kenyatta's succession when that time comes. Supporting Uhuru's re-election bid increases her chances of election as Kirinyaga governor."
"Every vote counts. Had Martha and Peter Kenneth supported Uhuru in 2013, the margin of 8,000 votes would have been above 150,000. Secondly, Martha can resign from Narc-Kenya like Kenneth did and seek Jubilee's ticket for Kirinyaga governor. If she did that, she would win before 9am. If she doesn't Jubilee is obligated to back and campaign for its candidate," said Jubilee Party Vice Chair David Murathe.
On shifting her focus from presidential ambitions to Kirinyaga governor's race, Karua said Kenya's accelerated modernisation agenda envisaged in the 2010 Constitution will come from counties.
"County government is a reflection of the national government. I am convinced if one or a group of a few county governments get it right on governance, this will pile up pressure for laggards in other counties and national government to shape up," she said.
County governments, she said, had become bastions of mega corruption where, just like in national government ministries, the same players have monopolised certain supply tenders over and over again, regardless of amounts involved.