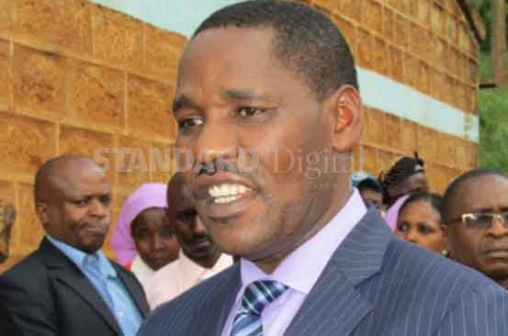 Meru Governor Peter Munya might be forced to shop for another political party after a senior Party of National Unity (PNU) official announced that it will fold up and join Jubilee Party.
PNU chairman John Kamama also said former Ndaragwa MP and Amani Coalition presidential candidate running mate Jeremiah Kioni and former Assistant Minister Nderitu Mureithi are not party delegates.
Mr Kamama who spoke to The Standard on Saturday on telephone said PNU is a national party with more than 106,000 members and majority have approved its dissolution to form JP.
He described the governor as an extra-ordinary person who travels to a new town and claims ownership of a building he does not have stake in.
"What Mr Munya is doing is tantamount to coming to Nairobi's Treasury House and demanding that all tenants pay rent to him.
Let him understand that we have a party constitution and a Certificate of Registration from the Registrar of Political Parties and he should respect that," he said, adding that there are parties which are ready to accommodate him.
Read More
Kamama, who was among party officials who attended a State House event last Tuesday where President Uhuru Kenyatta and his deputy William Ruto set stage for Jubilee Party saidPNU leader and former President Kibaki has backed the merger.
"But our Secretary General John Okemwa Anunda has declined any move to work with the government and instead went out to attempt to sell the party to Munya and the others, but he should know he is one against over 106,000 members," he said.
On the membership of Mr Mureithi and Mr Kioni, the PNU chairman said a Parties Tribunal ruling of July 21 declared that they are not National Executive Committee (NEC) members.
"They are not our members and cannot therefore speak or represent the party on any forum. Our constitution is elaborate, that you can only be an NEC member after having been elected from the grassroots and not just force yourself to the highest decision making wing of PNU," said Kamama.
Although Mureithi had previously been quoted saying delegates will decide on the future of PNU, the chairman noted that his party was for the unity of all Kenyans, which could only be achieved if all political parties merge into one strong force.
"Kioni and Mureithi should wait until 2017, when were are supposed to hold party elections for them to run from the grassroots until they are elected to the National Delegates Council, otherwise you cannot be a party delegate without having been elected in the grassroots," he said.
Kamama said the party held elections in 2008 and in 2012 and has delegates across the country adding that Kioni and Mureithi are not among the party representatives.
Kicked out
"Everyone knows that they were in UDF during the 2013 General Elections and they do not have any mandate since a similar tribunal ruling kicked them out of UDF. My intention is to see all Kenyans with common interest of enhancing peace come together under one party," he said.
But when contacted, Kioni and Mureithi dismissed Kamama's allegations as unfounded and empty talk.
Nderitu said:"We cannot engage in a media battle. We follow orderly purposes and I am urging him that we meet at the NDC if he dares attend and we will see who will get the members' votes."
Kioni said he will attend the NDC: "As Party Leader, official and founder member of PNU".
He said he was not opposed to the merger of political parties, adding that the final decision will be made at the NDC. "A political party of PNU's stature, and which mid-wifed the constitution cannot be run by an individual. It was not in the design of party founders for the party to be run by one person," said Kioni.