KANU leaders to join CORD protests against IEBC on Monday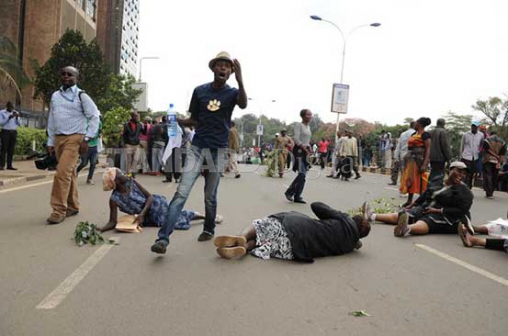 KANU leaders will join street protests on Monday to push for the overhaul of the Independent Electoral and Boundaries Commission (IEBC) ahead of next general election.
Secretary General Nick Salat said he will lead a KANU brigade to Anniversary Towers, Nairobi to pile pressure on government to ensure the commission is reconstituted.
"It is no longer about CORD but the interest of electorate in the country will go to choose their leaders in 2017 and there we are joining street protest officially as KANU from Monday," Salat said.
He said: "I am ready to be tear gassed by police and be counted as among those who pushed for the rights of Kenyan electorates to be allowed to participate in a free and fair process come 2017."
Salat was speaking during the burial of Mzee Jeremiah Kimutai Chebaituk – father to former Konoin MP Julius Kones at Kipreres in Bomet East.
He took issues parliament saying it cannot be trusted to deliver demands to change the IEBC commissioners.
"Faith in parliament is not there as of now because it does not perform its work independently and therefore it is not a place anyone can be advised to look for solution on issues surrounding the IEBC," he said.
Salat said as KANU they are rooting for Inter party parliamentary group (IPPG) instead of the parliament.
Take a quick survey and help us improve our website!
Take a survey
"If Jubilee thinks there is need to have discussion about IEBC, then it should be through IPPG and not parliament because they are known to use their tyranny of numbers against the interest of public concerns," he said.
Bomet Governor Isaac Ruto, Nominated senator Liza Chelule , MPs Johanna Ngeno (Emurua Dikirr), Bernard Bett (Bomet East), Ronald Tonui (Bomet Central) and Alfred Keter (Nandi Hills) attended the burial ceremony.
Keter shared Salat's sentiments saying there was need for a polls body which every player has confidence in as the country goes to elections in 2017.
"There is need to ensure the country has a polls body without the doubt of some Kenyans. It will not be in the spirit of the constitution to force IEBC on Kenyans when we have time to make changes on it," he said.
However, Tonui and Bett said it was mischievous for CORD to call for an overhaul of IEBC while it took part in its formation.
"We are surprised CORD is part of the people who set up the IEBC and even some commissioners were directly proposed by them. What has happened to demand that overhaul, is it sensing defeat and using it as an excuse?" Tonui posed.
The Bomet East legislator on his part accused CORD of seeking shortcuts to address the issue of IEBC.
Bett said it was only through a petition to parliament that the issues being raised by CORD can be addressed adequately.
"Until CORD uses the constitutional institutions their mission will be futile. We are waiting for a petition in parliament and if their issues will be genuine then they can count on MPs for a lasting solution ahead of 2017," Bett said.