Ugunja residents 'biggest losers of House chaos'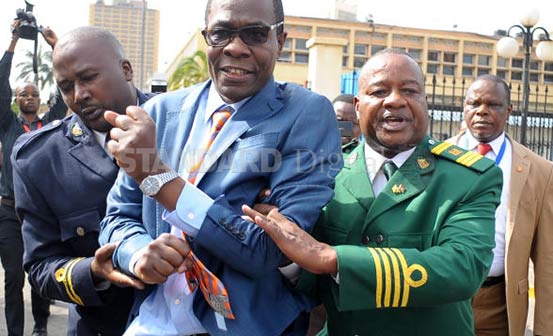 Ugunja MP Opiyo Wandayi and his constituents might be the greatest casualty of yesterday's altercation in Parliament.
The decision by Speaker Justin Muturi to kick the MP out of the National Assembly under Standing Order 111 locks him out of Parliament for the remainder of the session.
The fourth session of Parliament began on February 9, 2016 and will end on the February 13, 2017, effectively meaning that Wandayi will be barred from the House for close to one year. This means that Ugunja constituency residents will remain unrepresented for as long.
But luckily for Mr Wandayi, he will continue drawing his salary although he will not be allowed to access Parliament Buildings and his Continental House office.
Wandayi, who was among CORD MPs who led a whistling protest immediately President Uhuru Kenyatta stood to address the nation, disobeyed Mr Muturi's orders to vacate the House severally, forcing the speaker to invoke the standing order.
Public Relations
According to Parliamentary Standing Order 111, if a member refuses to withdraw when required to do so, s/he should be forcefully kicked out.
It reads: "The Speaker...shall order such Member to be removed and such Member shall thereupon without question be suspended from the service of the House during the remainder of the Session..."
Wandayi was frog-marched out of Parliament precincts by parliamentary orderlies. Speaking to journalists outside Parliament the MP said he could not allow the President to address the House and do his "public relations" while Kenyans are suffering.
"We cannot allow the President to continue lying to the nation, tribalism and corruption have consumed the country," said Wandayi.
Other MPs kicked out in the melee were Fred Outa (Nyando), Millie Odhiambo (Mbita), John Mbadi (Suba), TJ Kajwang' (Ruaraka), Gladys Wanga (Homa Bay County MP) and Homa Bay Senator Moses Kajwang'.